Coleman, K.R. Showdown
September 1st 2017 by Darby Creek Publishing
E ARC from Netgalley
Toby is glad to be on the football team with his ever-hungry friend, Walter, and is glad to be getting some attention from the upper classmen, including Neko. When rivals Winfield High plants a bunch of forks in their field, Neko retaliates by smearing chocolate frosting on their school and the car of their star player. This leads to Winfield putting a skunk in the Eddies' locker room. Toby's coach tells the team not to retaliate, but Neko is irritated not only by the sports rivalry but by the fact that Winfield is a wealthier community with better facilities. Toby doesn't think the pranks are right, since he knows his grandmother, a retired school cook, and his mother, who is deployed, would not look favorably on them. When Neko has a plan to spread manure on the Winfield field, Walter and Toby help as far as obtaining the manure, but then are abandoned by Neko when they try to dissuade them. When Neko and other team members are arrested, Toby and Walter are the only ones who go to their coach to admit their involvement. The team will struggle with fielding enough players for the championship, but Toby steps up and, with the help of his grandmother's cooking, tries to bring his team back together.
Strengths
: This is a great example of what many of my sports readers like-- a short book with enough football to make them happy, and enough friend and family conflict that they can use the book for a language arts class project if they need to. The writing is simple but effective, Toby and Walter show their human frailties but step up to be better people when needed. There's even a little bit of a romance between Toby and Walter's cousin. Perfect.
Weaknesses
: These books are occasionally very small and the white space isn't great-- I couldn't tell from the ARC, but I'd much prefer it if high/low books looked like regular trade fiction. I'll be very pleased if this one does. Darby Creek has been better about that lately.
What I really think
: Definitely purchasing, and it will see lots of circulation. Middle school students love to read about high schoolers!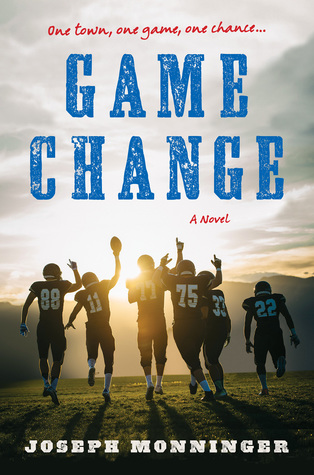 Monniger, Joseph.
Game Change
September 12th 2017 by HMH Books for Young Readers
E ARC from Edelweiss Above the Treeline
Zeb's life is pretty simple-- he works with his uncle in his auto body shop and goes hunting with him, he tries to help out his hard-working, single mother, and he plays on the football team. When the star quarterback, T.T., breaks his leg in a game, Zeb finds that he might have a chance at opportunities outside of his narrow life in a small New Hampshire town. In the week leading up to the big game, he is given interesting offers from T.T.'s former girlfriend, a popular cheerleader named Stella, his coach, scouts, and a former classmate, Ferron, who has moved back to town. His friend Hawny is there to encourage him to do his best, but also keeps him grounded. Doing a good job in the championship game might change his life, but what if a knee injury gets in the way? What if he just can't play well enough?
Strengths
: The cover on this is fantastic-- the text could be about a boy who knits, and my readers would still pick it up! Good use of stock photo, HMH! I really liked Zeb, Stella has a realistic if shallow presence in the book, and Ferron is fantastic. I loved how she brought Zeb to Thanksgiving dinner and her family made him feel welcome. The hardscrabble background is interesting, and I liked the athletic trainer and coach a lot.
Weaknesses
: Several f-bombs, and several...awkward moments. There's a scene in a history class where Native Americans are discussed in a way that made me feel uncomfortable, and there are some turns of phrase that were just odd. I liked this better than this author's
Crash
or
Whipporwill
.
What I really think
: So torn. I really do try to buy all of the football books, but this one might just come down too far on the Young Adult side for my readers. Would I have bought a copy if the f-bombs hadn't been there. Absolutely.