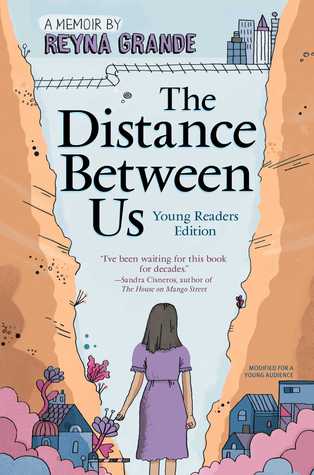 Grande, Reyna. The Distance Between Us
September 6th 2016 by Aladdin
E ARC from Edelweiss Above the Treeline
In this memoir, the author shares her experiences growing up in a small Mexican town where her parents wished to build a house. Since the economy was bad, her father went to the US to work, and her mother soon joined him. She and her siblings were left in the care of their father's mother, who didn't much care for them. Eventually, her mother had another daughter, whom she brought back to be cared for, and her father married another woman. Eventually, he brought the family to the states, where the stepmother was somewhat kinder than the real mother, but her father became abusive. Life in the US included a nicer place to live than anywhere she had seen in Mexico, an opportunity to become educated, and other conveniences that made life easier, but the author still longed for her family to be together and functional.
Strengths: This offers interesting insights on both living in poverty in Mexico and the struggle of coming to a new country. There are many students who need to read books like these to gain some empathy, and others, like the author herself, who need to see themselves in literature. This young readers' edition does a good job of showing these difficulties but also emphasizing the importance of working hard and taking advantages of opportunities.
Weaknesses: Some of my students of Hispanic descent are starting to complain that they want books that cover the immigrant experience but aren't quite as depressing. This one in particular showed that a lot of the problems the author faced were because of her dysfunctional family. I think my students would be very interested in a book about the experience of the author's children, since that would be more like their own.
What I really think: This would be an excellent companion to Lupita Manana, since the experiences are roughly contemporary. Debating purchase. If it were 200 pages long, I'd snap it up, but it comes in at over 300.