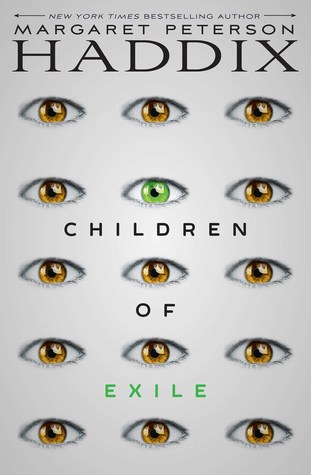 Haddix, Margaret Peterson. Children of Exile (Children of Exile #1)
September 13th 2016 by Simon & Schuster Books for Young
E ARC provided by Edelweiss Above the Treeline
Rosi and Edwy are two of the oldest children in Fred-town. They have been raised knowing that their Fred-mothers and Fred-fathers are just raising them while there is unrest in the community where their real parents live. Fred-town is an ideal place, and everyone learns to be tolerant, patient and understanding. When Rosi finds out that all of the children, including her and her younger brother Bobo, are going to be returned to their parents, she is apprehensive but open to the idea and cooperative, the way she has been raised to be. She is alarmed when the airplane sent to retrieve the children is not supplied with the things the younger children need, and she tries her best to make everyone comfortable. Edwy is not helpful. When the plane lands, it is stormed by the parents, who grab their children, frightening them terribly. Rosi is appalled by the squalor in which her family lives, and tries to get answers as to why there is so much poverty and dissent. This gets her into a lot of trouble, and she is eventually jailed and becomes a fugitive. Even though she is given an opportunity to return to Fred-town, she decides to stay with her brother and another little girl, Cana, and try to right the wrongs that have been done in her new community.
Strengths: I loved how the children of Fred-town were raised to be so tolerant and understanding, not to mention polite and cooperative. There was also a twist so surprising it was visceral. Definitely a compelling read.
Weaknesses: The abuse and dysfunction in the new community was horrific, and the fighting between people with green eyes and those with brown felt preachy.
What I really think: This was just straight up WEIRD. I kept reading mainly because I wanted some explanation as to why it was FRED-town. Was disappointed. Think I'll wait to see what direction the second book takes before purchasing.
Littman, Sarah Darer. Charmed, I'm Sure
September 27th 2016 by Aladdin
E ARC from Edelweiss Above the Treeline
I'm not quite sure what to think about this one. On the one hand, fairy tale retellings occasionally become popular in my library, and this one involves the daughter of Snow White and Prince Charming living in New York City. On the other, the main plot was that Rosie wants a date for the school dance and her looks and lifestyle obsessed mother thinks that a makeover accomplish that. This sort of happens in the end, but only after Rosie gets her all-important date. An uncomfortable read for me. I have always been useful, not decorative, and think that tweens need the messages that substance is more important than looks AND that they don't need a boy/man/significant other in order to be happy.
Any thoughts on this one?
From Goodreads.com
'Rosie White Charming—the daughter of Snow White and Prince Charming—discovers that being the fairest in the land isn't all that it's cracked up to be in this charming continuation of the beloved fairy tale.
Meet Rosie White Charming. You probably know her parents, Snow and Prince. Yup—
that
Snow and Prince. You would think that being the only daughter of two of the most famous people in fairy tale history would be awesome.
But you would be wrong.
After failing to secure a date for the Fall Festive dance, Rosie is on a mission to prove that the daughter of the fairest in the land can actually hold her own. With the help of a mysterious and magical compact that her mother gives her (and a nice blowout from her mother's favorite salon) Rosie starts to become the person she thinks she should be. But is being the fairest in all of the land really going to give Rosie her happily-ever-after?'
Plus, I couldn't get this out of my mind:
http://www.sidereel.com/tv-shows/the-charmings