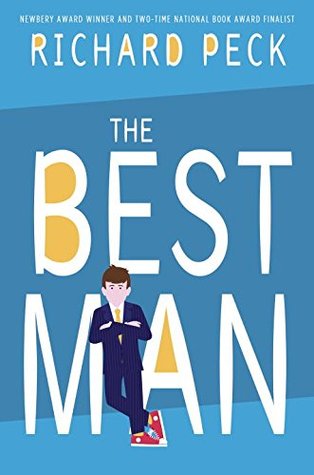 Peck, Richard. The Best Man
20 September 2016, Dial Books
E ARC from Edelweiss Above the Treeline
Archer lives a fairly ordinary but pleasant suburban life with a fantastic family. His grandfather, an architect, designed the elementary school he attends, and walked him to school every day when he was younger. His father restores classic cars and cooks. His mother is not a wedding planner (as he thought when he was younger), but a marriage counselor. Older sister Holly, who skips a lot of high school in order to "visit colleges" is the only difficult character in the family, and bully Jackson Showalter is the only bad egg at school. Even he is quickly put in his place by Archer's fantastic uncle Paul, who is very metropolitan and has a job with an agency that deals with the Chicago Cubs. We follow Archer's life (through his narration) from a wedding he is forced to be ring bearer in before he starts school. There, he embarrasses himself, but meets his good friend and protector, Lynette. Every year brings different teachers, challenges, and classic cars. Unfortunately, we see Archer's grandfather's health fade over this time, and he eventually passes away. The year that Archer's class has three different teachers, including Lynette's mother, is a pivotal one, as the class has a fabulous student teacher, Andy McCleod. Andy is a military reservist who has a fresh and energetic take on teaching, and the students love him. When he defends a student who has been attacked and had "gay" written on his forehead, he also identifies himself as gay, causing a bit of an uproar but not making any difference at all to the students who love him.
It's hard to say why this novel is so appealing and easy to read. Not much happens, but it's so pleasant and entertaining that I didn't care. The humor is gentle but pervasive, and Archer has a lot of intriguing interests. His family is a big fan of the Cubs, they build Lego villages together and deal with the death of the grandfather in a realistic and constructive manner. We follow his elementary years up through 6th grade, when his class moves unexpectedly to middle school after a school reconfiguration.
In addition to great family characters, Archer is surrounded by interesting teachers and classmates. Lynnette is forthright, no nonsense, and able to stand up to anyone who gives Archer a hard time. When her mother becomes their teacher, she is able to compartmentalize herself and not be bothered by this. Mr. McCleod is a great teacher without being overly sentimentalized.
The big talking point of the book will be that Archer realizes (much after everyone else) that his favorite uncle is gay, but this really wasn't main point of the story. Yes, the uncle gets married to a man, but this was addressed in such a supportive and accepting way that it was never an "issue". It was just life. The fact that the topic is raised in the book will still upset people, which is too bad. If all families were able to weather their difficulties with the grace and fortitude of Archer's family, the world would be a better place.
The Best Man is a great choice for readers who can handle quiet but interesting books that emphasize the importance of family, such as Connor's All Rise for the Honorable Perry T. Cook, Graff's Lost in the Sun, or Messner's The Seventh Wish.
Mr. Peck says in this interview with Roger Sutton of Horn Book that there are no villains in The Best Man because he wanted the book to be "a hymn of joy". After the events of this summer, and the Year of Sad Reading that 2016 turned out to be, I don't think we need to look any further than that statement to realize why this was such a blissfully relieving book to read.