Harley, Bill. Charlie Bumpers vs. The Puny Pirates
September 1st 2016 by Peachtree Publishers
E ARC from Edelweiss Above the Treeline
Charlie is glad that he is on the same soccer team with his friends Hector and Tommy, but not thrilled with the fact that the team is the Pirates, who aren't very good. Their coach is very demanding, and won't let players become "stars"-- everyone should have a chance. It also isn't a great idea that the team sells chocolate bars to sell money. The boys think that the bars are awfully tasty, and before they know it, they owe the team for one hundred bars that they have given away or eaten! With the help of their families, the boys learn that being part of a team takes a lot of work, both on and off the field.
Strengths: Even these are a little bit on the elementary side (a must purchase for K-6!), they circulate really well in my middle school. There is a great balance of humor and life lessons. I especially liked the inclusion of the candy bar fundraiser. Very well done, and so much soccer than I didn't understand a lot of it. (Which will make soccer players adore it!)
Weaknesses: None. I enjoy these more now that Charlie has matured a little but what is there not to like-- intact, supportive families, positive role models, problems that actual students face-- LOVE.
What I really think: Five books in a series is enough, although if there is a Charlie Bumpers: Middle School series, I wouldn't be at all sad!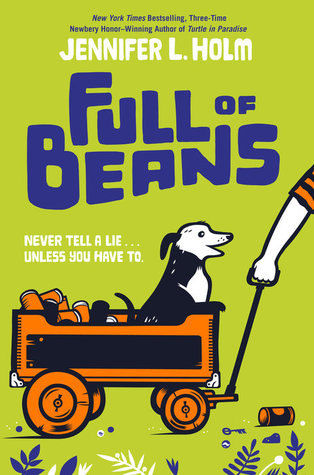 Holm, Jennifer L. Full of Beans
August 30th 2016 by Random House Books for Young Readers
Copy provided by publisher
Beans, Turtle's cousin from Turtle in Paradise (2010) is doing the best he can to help out his family during the Great Depression in Key West, Florida. He and his brother, Kermit, dig through the trash for tin cans, babysit, and even engage in illegal activities in order to make some money. Their father is away in New Jersey, trying to get a factory job, and their mother takes in laundry and occasionally tries her hand at dressmaking. When New Deal men come to town and try to clean up Key West so it can be a tourist destination, Beans is apprehensive. These men are wearing Bermuda shorts! They can't be official. After one of his money making enterprises goes sadly wrong, Beans feels awful enough that helping the New Deal men make Key West more attractive seems like a good way to give back.
Strengths: Holm has based this book on family lore, and includes period photographs at the back. I think the best part of this is all of Beans' money making schemes. While families struggle today, it seems like children are not able to help. At other points in history, children were given a lot of opportunities to be useful. Other period details, such as movies, cars, and games children played, as well as local culture, make this a fun, fast paced book.
Weaknesses: Turtle in Paradise seemed like much more of an elementary book, and it doesn't circulate a lot. Luckily, this can be read alone, and I think that it's funny enough that readers will pick it up.
What I really think: Will give this to children who enjoy the core novel A Long Way From Chicago and want to read more about the Great Depression.