Time to party! There's a new Jordan Sonnblick book coming out. Ever since I read Notes from the Midnight Driver, every new Sonnenblick book is an OCCASION!!
It's Marvelous Middle Grade Monday at Ramblings of a Wannabe Scribe

and

What Are You Reading? day

at

Teach Mentor Texts

and

Unleashing Readers.

It's also

Nonfiction Monday

.
Sonnblick, Jordan. Falling Over Sideways
September 27th 2016 by Scholastic Press
E ARC from Edelweiss Above the Treeline
Claire has a lot going on when 7th grade starts, so it doesn't help that crazy old Mrs. Selinsky's homeroom is an odd mishmash of people who are at odds with each other but still have to go through the entire day together. She and Ryder used to be friends, but now he goes out of his way to make fun of her. Regina calls Claire "Starbucks" and strong arms Skittles from her. Leigh "compliments" her boots in a way that makes Claire want to immediately burn them in a way only snotty, popular middle school girls can. On top of school, she has dance, where she is not promoted to the next level with her friends. When you spend every night at the dance studio, this is a problem. Then, suddenly, her father has a stroke, Claire is with him and calls the ambulance, but the damage to her funny, charismatic author father is significant. Now, on top of everything else, she and her mother and older brother find themselves dealing with her father's impairment and recuperation. Claire is reluctant to tell her friends and teachers, but eventually she has to tell them the truth about how difficult her life has been... and realize that she will have to learn to deal with the new reality of her life.
As with any Sonnenblick novel, the subject matter is immaterial. I read him for the absurdly clever turns of phrase that pop up when I least expect them. How anyone can write an essentially sad scene in such a hysterically funny way impresses and amuses me. This mixture of tones also makes occurrences such as the father's stroke oddly compelling because we are forced to laugh when it seems like we should be very somber.
Claire's character is so realistic that I half expect her to show up at my school on the first day and ask to work in the library. I loved that her family was intact and supportive, and also that she had a schedule full of dance, clarinet, and hanging out with friends. Her older brother, whom she thinks is her father's favorite, is also overbooked. He is also stoic and silently resentful; there could be another book written about Matthew's reaction to the same events. Even the supporting characters like Ryder and Regina, and the brilliantly flawed Mrs. Selinsky, are given subtle motivations and convoluted backstories. Falling Over Sideways shows brilliantly that it's impossible to know what baggage others are carrying.
It's easy to say "recommend this to readers of books dealing with serious family issues, such as Sovern's The Meaning of Maggie or Applegate's Crenshaw", but this book deserves a wider audience. Sonnenblick's fans will be waiting for this book to arrive on the shelves, but hopefully new readers will be drawn to the book for its connections to dance, saxophone playing, or the representation of someone else's experience in the confounding swirl of people and activities that comprise the Hell that is middle school.
The only downside to this book was the inclusion of Claire's torment when she gets her period at school; while the scene is completely true to life and brings up serious issues about how we treat girls in middle school (no purses, having to explain the need to go to the restroom or nurse), its inclusion in the first chapter might cause some readers to put down the book.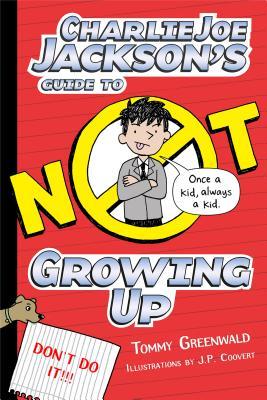 Greenwald, Tommy. Charlie Joe Jackson's Guide to Not Growing Up
August 9th 2016 by Roaring Brook Press
Library Copy
Charlie Joe didn't really like middle school, but he's not quite ready to leave. The day of his 8th grade graduation (which is also his birthday) is packed with activity, including a pool party, a trip to the park with his sister Megan, and an emergency visit to the vet with Moose. In between, we get rare flashbacks into Charlie Joe's life that explain the beginnings of some of his friendships or preferences. In true Charlie Joe fashion, he manages to go out of Eastport Middle School with a bang, but somehow manages to NOT get in too much trouble.
This is the sixth and final book in a series that has a huge amount of appeal for middle grade readers, and it doesn't disappoint. Charlie stays true to form with his standard higjinks, and we get a better understanding for some of his motivations. Clearly, Greenwald is drawing from his own experiences and is feeling a lot of nostalgia. Will middle school readers miss Charlie Joe, or their own middle school experience, for that matter? Enough of them will that this makes a perfect ending for a fun series.
I appreciate that the covers retained the same format, but am NOT happy about the truly horrible bindings on the last three books. Paper over board does not hold up to library usage, and I certainly would have paid more to have a dust jacketed hardcover so that Charlie Joe could remain in my library for years to come.
Good luck in high school, Charlie Joe. I'm glad that you have come to terms with reading.