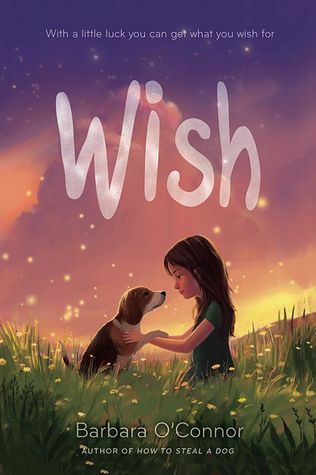 O'Connor, Barbara. Wish
August 30th 2016 by Farrar, Straus and Giroux (BYR)
E ARC from Netgalley.com
Charlemagne's father, Scrappy, is in a correctional center for fighting, and her mother is incapable of getting out of bed to care for her, so "Charlie" is sent to live in the Blue Ridge Mountains with her aunt Bertha and uncle Gus. She's angry at everything and unhappy with being at school, especially when some girls are mean to her. Fortunately, she meets Howard, a boy with "an up and down walk" who is super nice, as is his entire family. The two spend a lot of time trying to capture a local stray dog, whom Charlie has named Wishbone, and they eventually get the dog to stay at Charlie's house. Charlie's sister Jackie has stayed back in Raleigh with a friend, graduates from high school, and seems to be getting on with her life, which irritates Charlie. Howard's entire family, as well as Bertha and Gus, make Charlie feel welcome, and she eventually realizes that she is not going to be able to go back to her mother.
Strengths: Despite the sad state of Charlie's family, everyone else she comes in contact with is helpful and supportive, so this is a very warm, feel good story. I kept turning the pages, and even though not a lot happened, it kept my interest. I liked the inclusion of Charlie's experiences in Sunday school and vacation Bible school-- a lot of children go to church without thinking too much about it, but that is rarely reflected in middle grade literature. There were lots of nice descriptive touches, and the emotions were there but not overdone.
Weaknesses: Quirky Southern. Urgh. All of the "He don't..." just about pushed me over the edge. Not a fan personally, and Southern stories don't do too well in my library, either.
What I really think: This was very easy to read because it was so well written, and rather enjoyable, but I don't think I will be able to get children to read it. Very much like Naylor's Faith, Hope and Ivy June that just sits on the shelf.