Not everyone understands why my blog tagline is "Books for middle school students, especially boys". When I started my blog, I realized that many of the "gatekeepers" in boys' lives were female, and that certainly the books I personally read in middle school (
Anne of Green Gables
, Beverly Cleary's teen novels) were not things that interested boys. In the last ten years, there has been a lot of discussion about "boys' books" and "girls' books", with some hurtful, unhelpful things going on, like Shannon Hale not being invited to talk to boys at school visits because she writes "girl books".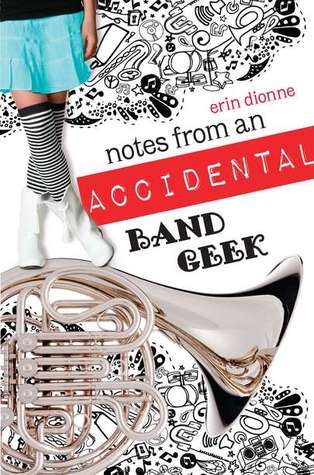 That's not my intention. I wrote an article for School Library Journal on my opinions, and still think that it's somewhat more difficult to get books that make boys excited about reading.
I say this all because the following book is an excellent example of how publishers can make a more gender neutral book that I can hand to boys without them recoiling. I love Dionne's Notes from an Accidental Band Geek (at left), and have handed to lots of boys in band. But is has a girl in a skirt on the front. Middle school boys really have to be persuaded to read this because of the cover, no matter how good the inside of the book is. Compare this with the nice neutral cover below! My school has just as many girls in the drum section as boys, but I could definitely hand I Am Drums to a boy and he wouldn't blink. Success!
Grosso, Mike. I Am Drums
September 6th 2016 by Clarion Books
E ARC from Edelweiss Above the Treeline
Sam loves to drum, but her family is having some financial difficulty, making private lessons and even a drum set hard to swing. She has put together her own kit on an old computer desk, with a variety of different books and newspapers that make different sounds. When she finds out that her school is going to cut the entire band program, she gets desperate and decides that she has to finally try to get lessons from the local expert, Pete. She needs to find a way to make money, so talks to a number of neighbors and borrows her family's lawn mower without permission in order to pay for lessons. Pete agrees to take her on as long as she pays $15 per lesson (half the going rate) and saves for a drum set. Sam is very passionate and talented, and works very hard, which is why Pete takes her on, but she also had a behavioral issue at school that she's keeping from her parents. On top of the lies she tells in order to keep taking lessons, she runs afoul of her parents in a major way, which eventually ends her lessons and gets her in a lot of trouble. Can Sam manage to make things right and continue with something she loves?
Strengths: Lot of good details about drumming, and Pete is a fun teacher. Sam is very impetuous, which is so true of many middle schoolers. I can't think of another book that is so centered on music. I see this making some drummers in my school very happy.
Weaknesses: I never thought of drumming as being a "boy" thing, but then I was a huge Karen Carpenter fan! Sam is given a hard time about this by some boys in her class. I also was really, really uncomfortable about Pete being willing to drive her to an audition. I would only ever transport a student if I personally knew and was friends with the parents. The lying had consequences, but went on for a very long time.
What I really think: Love the cover and will purchase. Won't be hugely popular, but will be the right book for the right child on many occasions.