Angleberger, Tom and Dellinger, Paul. Fuzzy
August 16th 2016 by Amulet Books
E ARC from Netgalley.com
Maxine is having trouble in school with the robotic assistant principal Barbara making sure that everyone is Upgrading, but things get even more complicated with the advent of a robot prototype named Fuzzy. The government is trying to get a robot to create its own code based on its experiences instead of relying on programming, and feel that a middle school is good place to do that. Max is assigned to help Max, and ends up getting a lot of dTags (demerits) because she is frequently made late by Fuzzy or his handlers. Unbeknownst to her, Barbara is giving her poor scores on tests and trying to get her removed from the school. The assistant principal program has also been writing its own code, although that was not supposed to be one of its function, and is trying to get rid of students who are dragging the school down. There are also people trying to steal either Fuzzy or some of the school's codes. When Fuzzy uncovers more information about Barbara's plot, he works with Max and other students to try to overthrow her influence.
N.B. The pages of my E ARC turned really slowly, so I wasn't able to go back and get details I had saved. There weren't pictures, so I don't know why it was so slow.
Strengths: I liked this vaguely dystopian school system, where students are tested every week and scores MUST go up. Granted, it's a little over the top, but completely plausible! Max is a fun character who tries to do the right thing but becomes frustrated, and Fuzzy is an excellent robot to have as a friend.
Weaknesses: I'm usually not a fan of evil principal characters, but making a computerized principal evil-- that's brilliant!
What I really think: This is definitely one of Angleberger's stronger works, and I think it will be very popular. Robots seem to be a huge new trend, right up there with video games.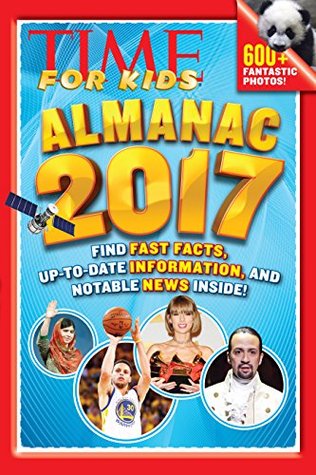 Time, Inc. Time for Kids Almanac 2017
May 31st 2016 by TIME for Kids
Copy received from the publisher
Remember back in the day when there was a class set of almanacs, and the social studies teachers would bring their students to the library to look up information about countries in them? No? This was, of course, before smart phones. Want to know the current population of Bolivia? Just Google it. Students are woefully unprepared to look up information in books these days, which is a skill they might occasionally need to have.
Because almanacs don't serve the important function they once did, this Time For Kids publication focuses on a variety of fun facts. You can still find information about Bolivia, but instead of it being a solid block of 6 point text on flimsy paper, there's a colorful entry (alongside other countries of the world) with the flag and pertinent data. I especially liked the information about the different states. There is a wide range of information, from books for middle grade readers that have been published to fun holidays to information about sports teams. All of the information is presented with pictures, text boxes, and a generally appealing format that is fun to dip into. There are lots of maps and timelines as well.
My students love the Guinness Book of World Records, mainly for the gross articles about people with multiple piercings or 20 foot long fingernails. This is a better alternative. Since the format is vibrant and engaging but the information is more useful and pertinent to daily life, spending time flipping through this will increase students' working knowledge of the world and provide them with useful data that they can apply to their school work.
Plus, it doesn't have a plastic coated lenticular cover for readers to repeatedly run their fingernails over in order to make a squeaky noise and annoy everyone in study hall!