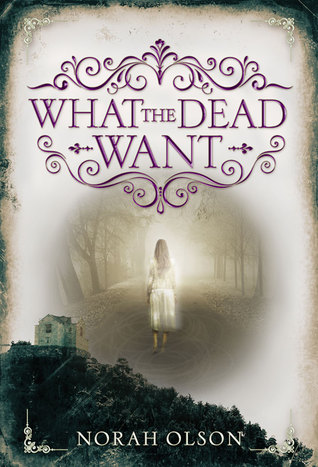 Olson, Norah. What the Dead Want
July 26th 2016 by Katherine Tegen Books
E ARC from Edelweiss Above the Treeline
Gretchen shares a love of photography with her mother, who ran a gallery and was an expert on vintage paranormal photographs. Unfortunately, her mother has been missing for several years, and her father, in his grief, goes on mission trips. When he is away and she is being cared for by her mother's best friend, she gets a call from her mother's aunt Esther. Esther is preparing to move away from the family home and wants Gretchen to come out and help. She does, but it is a super creepy, decrepit place. Her aunt (who turns out to be a famous photographer who covered the Holocaust through Vietnam before holing up in the family home) instructs her about some of the things that need to be done, and then commits suicide by drinking developing fluid. Gretchen is understandably traumatized but luckily gets help from neighbors Hope and Hawk who are her age but orphans. They tell her about the historical event that caused a family tragedy that is tied into the house, as well as her aunt's death. The event is tied in to the Underground Railroad, the cotton industry during the Civil War, and the Ku Klux Klan. Gretchen manages to solve not only the very old mystery as well as what happened to her mother.
Strengths: Creepy house, attacking ghosts, interesting historical connections.
Weaknesses: A bit confusing. Too many details and not as much ghost violence.
What I really think: Will probably buy because I can't keep enough copies of The Dead Girls of Hysteria Hall on the shelf, and this was sort of like that.
Foxlee, Karen. A Most Magical Girl
August 2nd 2016 by Knopf Books for Young Readers
Copy provided by the publisher.
Annabel sees visions in puddles, which is not something London's uppercrust young ladies do in 1867. Her mother sends her to live with her great aunts Henrietta and Estrell, who run a serious magic shop and are secretaries for the Great & Benevolent Magical Soceity. When the creepy Mr. Angel appears at the shop, he leaves a note with Annabel that states his success in extracting enough dark magic to raise a shadowling army, with which he hopes to take over the world. When the aunts consult the bylaws and prophecies of the Society, they realize that "a most magical girl" can travel to Under London and retrieve the White Wand, which should thwart Mr. Angel's endeavors. With the help of street urchin Kitty, Annabel embarks on this dangerous journey to save a world she doesn't completely understand, facing dragons, trolls, and her own fears of failure.
Strengths: This author's
Ophelia and the Marvelous Boy was one that many librarians and bloggers adored. Victorian London was apparently rife with dark magic and children who could defuse it. This was an easy to follow adventure that was a good length and will appeal to readers who like creepy dark magic in a historical setting.
In fact, creepy Victorians are such a recurrent theme in middle grade literature that I created a resource list for "A London Nightmare".
Weaknesses: Alt
hough I love the retro 1930s inspired illustration on the cover, I'm not sure that my students will care for it. This was a solid tale, but nothing really fresh.
What I really think: I'm getting more fantasy readers, but the vast majority of them have been boys who express a desire for lots of things to blow up during the story. This had some action, but also a lot of Annabel's reluctance to be a hero.