We hope you're enjoying the blog tour for David Neilsen's Dr. Fell and the Playground of Doom! In case you missed yesterday's post, head over to Margie's Must Reads to check it out. The tour concludes tomorrow with the final stop, Carina's Books!
David Neilsen
is a classically trained actor/storyteller, a journalist, and a theater/improvisation teacher for children and adults. During the Halloween season, David can be found telling spooky tales to audiences of all ages, or performing one of his one-man shows based on the stories of horror author H.P. Lovecraft. David lives in New York with his family. Dr. Fell and the Playground of Doom is his first novel. Visit him at neilsenparty.wordpress.com.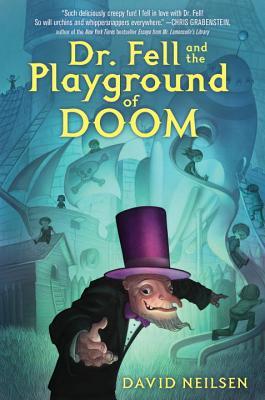 Neilsen, David.
Dr. Fell and the Playground of Doom
August 9th 2016 by Crown Books for Young Readers
ARC provided by the author
Gail and Nancy, as well as Nancy's younger brother, Jerry, are very apprehensive when the neighborhood "playground" (a derelict house) is sold to the weird and creepy Dr. Fell. When they meet him and voice their displeasure, they find that he has installed an elaborate playground in his front yard, and all of the neighborhood children are singing his praises with the eerie refrain "What a nice man is Dr. Fell". When children start becoming injured on the playground at an alarming rate, and being tended by Dr. Fell, the new neighbor seems even more suspicious. Dr. Fell manages to convince local schools to bus children to his facility, convince parents to bring their children in for frequent check ups, and convince the children who are injured that their injuries are minor, even when it looks to Gail, Nancy and Jerry as if the child is dead. After Nancy has an appointment with Dr. Fell and comes out rather zombiefied, Gail and Nancy are able to save her but realize that they must ramp up their efforts at investigation. Aided by an unlikely source, the trio uncovers alarming information about this "nice man" and risk everything to try to stop him.
There were a lot of nice touches that added to the humor of this book, as well as the credibility of Dr. Fell's evil plan. When the first child is injured, and Dr. Fell wants to help, everyone is outraged that a stranger is inviting a child into his home. As a big fan of Ruth Chew and other older titles where children invite creepy
homeless
men to live in their attics while their parents are out of town, I was glad to see modern sensibilities included in this magical situation.
The appeal of playgrounds is very strong, especially for middle school children, who often have to spend long moments after lunch standing around on sidewalks, and who are probably routinely told that they are too old to be on playground equipment if they are brave enough to venture forth onto it. I can't think of any other novels that use this particular back drop as a story setting.
The world building is especially good in this, especially toward the end when the children are helped by someone who knew Dr. Fell years earlier and had fallen prey to to his schemes as a child. The explanations made sense, and the forces of evil encounter were deliciously scary.
I was apprehensive about the somewhat twee names in the book (Vexington Avenue, Von Burden Lane) and the repetition of certain phrases (Old Lady Witherton could not be bothered), but these would add to the read aloud qualities of the book, and show the author's background as a storyteller.
Hand this one to readers who enjoy spooky tales set in magical schools-- Loftin's Sinister Sweetness of Splendid Academy, Gilman's
Tales from
Lovecraft
Middle School
or Stewart's Mysterious Benedict Society, although the book that this most reminded me of, for reasons I can't fully explain, was Ray Bradbury's Something Wicked This Way Comes!