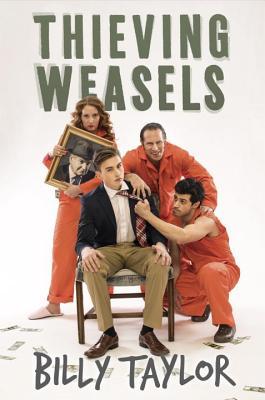 Taylor, Billy. Thieving Weasels.
August 23rd 2016 by Dial Books
E ARC from Edelweiss Above the Treeline
Cam Smith finally gets into Princeton, where Claire, his girlfriend at his exclusive prep school is also going. Life is good... until his Uncle Wonderful shows up and whisks him away, saying that his mother has tried to commit suicide and Cam needs to be there for her. SIcne Cam's entire family are grifters who have multiple fake identities and have used him in their scams since he was young, Cam has little patience for this. Still, he is alarmed at his mother's state in the mental hospital, and touched that she has purchased a home and a car for him, and furnished the house with pieces of his transient childhood he assumed were long gone. He's less touched when his cousins and other relatives get him roped into a plot to kill an old organized crime figure. How can he escape his past when his relatives keep coming back to drag him into their schemes?
Strengths: Loved all of the schemes, the sketchy relatives, and Cam's attempts to break free of his past. I've always been a fan of Donald Westlake, and this read a bit like some of the Dortmunder books, although Cam is much classier than that character!
Weaknesses: More of a YA novel. Drinking, drugs, sex (although cleverly and circumspectly done), and one f-word buried deep in the book. Just a bit much for the average 6th or 7th grader.
What I really think: I have two copies of Schrieber's Con Academy and will just give that to my students instead. Would buy this for a high school library, though!