Hayes, Christine.
Mothman's Curse.
June 16th 2015 by Roaring Brook Press
E ARC from Netgalley.com
Also reviewed at
Young Adult Books Central
Fox and Josie like to hang around their father's auction house near Athens, Ohio and snag some of the cooler stuff for themselves. They occasionally bring along younger brother Mason, as well, especially since their mom has passed away, although their aunt and uncle have moved in to try to help out. When Fox (who likes to have his own auctions and claim that items are haunted) finds a Polaroid camera that spits out pictures of a creepy guy in polyester whom they soon find out is John Goodrich, whose tragic story is the stuff of local legends. Goodrich and his wife spent a lot of their time and money trying to avert tragedies around town only to have a mudslide kill Mrs. Goodrich but spare John and his house. Fox's father has been contracted to auction off the estate, but his leg is badly broken when visiting the house. Did he really see the legendary Mothman? Josie finds a pin that gives her visions of various stages of the Mothman curse, with which she is now saddled. Another tragedy is going to hit Athens, and the Mothman's presence is presaging it, but no one believes the children. Can they find a way to save everyone and cast off the curse as well?
Josie and Fox make a terrific brother-sister team. Not only do they work the auction house well and are helpful to their family, but they also do a fantastic job at figuring out the Mothman curse and dealing with it in an effective manner. Fox starts off the book as kind of a goof, but manages to become more serious, and Josie goes from being a fearful shadow of her brother to being the kind of girl who is willing to sacrifice herself if that is the only recourse. Their mother is dead, which was an unnecessary bit of sadness, but they are handling their grief well. The other adults in their lives are supportive and helpful.
The use of local legend, landmarks and lore works very well and makes for a story that is much creepier than the cartoonish cover would indicate. Like the southeastern Ohio setting in Black's
Doll Bones
, this view of Athens is a bit gritty and macabre, but never devolves into "hillbilly" stereotypes. The descriptions of place don't weigh the book down at all, but are deftly worked into a plot that is well paced and which has its share of action and suspense.
This is a great title to hand to students who adore scary movies and would rather watch those than read, and a better written alternative to R.L. Stine books. There is always a demand for creepy books for middle grade readers, and this is deliciously spine-tingling but won't keep anyone awake at night. For too long, anyway!
A haunted Polaroid has been used before, in the Scholastic Poison Apple
Now You See Me
, but this works, too! I was glad that the camera in
Mothman's Curse
didn't require film!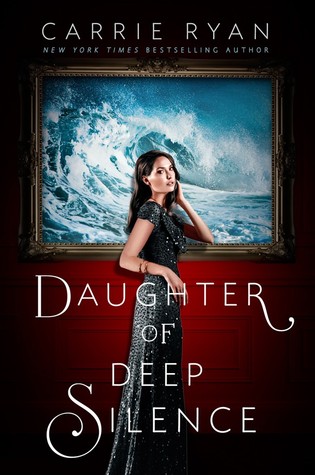 Ryan, Carrie.
Daughter of Deep Silence
May 26th 2015 by Dutton Books for Young Readers
ARC from Baker and Taylor
Frances and Libby are two of four survivors when the luxury yacht Persephone sinks-- but it was attacked and the people on it brutally killed by agents of Senator Wells and his son Grey. Libby dies on the raft, and when Frances is rescued, Libby's father offers to take her in and give her Libby's identity so that she can be kept safe. Senator Wells made up a story about a big wave sinking the ship, and Frances (now Libby) won't rest until she can bring him down. This is made more complicated by the fact that she still has feelings for Grey. To what extent is Grey a part of his father's conspiracy? Libby also has trouble with her half brothers, who were adopted by Libby's parents when their own parents died-- Shepherd does not believe that she is really Libby. Libby very cleverly carries out her investigation and plots her revenge, all the while fighting with her feelings about Grey.
Strengths
: Middle school students love murder mysteries as well as romance books, and this fits the bill well without being inappropriate. There's a lot of sighing and pining, but the violence is more of a concern. Even then, it wasn't too bad. The rich family setting, the intrigue, and Libby's attempts at cracking the mystery make this a fun read, right down to the twist at the end.
Weaknesses:
A bit on the long side, at 370+ pages, and the cover makes this look like a historical novel, when it's not. I think I'll buy a copy for the 8th grade girls who can't get enough romance books. A much better story from this author than
The Forest of Hands and Teeth
, which I did NOT understand!