It's Marvelous Middle Grade Monday at Ramblings of a Wannabe Scribe and What Are You Reading? day at Teach Mentor Texts and Unleashing Readers. It's also
Nonfiction Monday
.
Stauffacher, Sue.
Cassidy's Guide to Everyday Etiquette and Obfuscation
June 9th 2015 by Knopf Books for Young Readers
E ARC from Netgalley.com
Cassidy is very irritated. When her great-grandmother passes away, she is left with an inheritance-- a copy of Emily Post's etiquette manual and a month of lessons. That would be bad enough, but her best friend Jack and her sister Magda (who inherited time at a forensics summer camp instead!) are both enthralled with new neighbor Bree, who is a girly-girl from Georgia who competes in beauty pageants. Cassidy has no choice but to take the lessons, and ends up talking quite a bit to Delton, who has trouble interacting socially with others, as well as a young police officer whose fiancee is insisting he learn better manners for their upcoming wedding. Since Jack is not interested in her pranks anymore, she enlists her new friends in them, with varying degrees of success. She manages to damage the mannequin used for lessons, and generally finds that her pranks fall flat and only get her in to trouble. Will Cassidy be able to behave herself properly at the upcoming etiquette dinner?
Strengths:
This was a funny, upbeat book filled with vaguely amusing adventures, and a great cast of characters. The premise of an etiquette school is a fun one. The parents especially are written just the way parents in books should be written: ALIVE, a bit quirky, and annoying to the main character. I liked that Cassidy was able to be friends with boys, and that she and her sister had decided interests. There was even a nice multicultural aspect-- Jack Taylor's mother from India.
Weaknesses
: Cassidy was very annoying, and this dragged down the story quite a bit. In fact, she was SO annoying that I didn't like the book until I broke it down into component parts. Had Cassidy been a character I liked, this might well have been my favorite book of the year. The cover could be a lot better-- this is actually a good funny book for BOYS as well, but they won't like the cover. Just disappointed, somehow. I should love this, but was irritated by Cassidy. Her desire to be a "hobo" was odd and rather politically incorrect.
What I really think
: I am hoping that Cassidy won't annoy middle grade readers, since I need more upbeat, realistic fiction.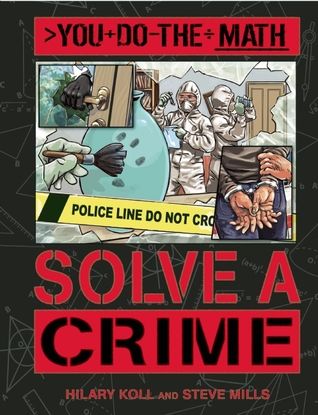 Hilary Koll, Steve Mills.
Solve a Crime: You Do the Math
Published April 1st 2015 by QEB Publishing
Copy received from publicist.
This 32 page book would be a good addition to a math class and could be used when lessons for the day are done. Middle grade students are very interested in forensics and would enjoy seeing how various types of math are used to solve crimes. Each two page spread focuses on one aspect of the crime, and one type of math: for example, the "Types of Crime" pages have a graph on falling crime and a chart where students can work out the fraction, decimal and percentages that different types of crimes represent. There are comic book style illustrations that move the investigation forward. Working the different problems would be an essential part of reading this book for me, so younger readers might need some assistance with the math.
Hilary Koll, Steve Mills.
Fly a Jet Fighter: You Do the Math
Published April 1st 2015 by QEB Publishing
Copy received from publicist.
This book centers around this premise: "You have been given command of a squadron of jet fighters and their pilots." This will entice many middle grade readers to find out about topics that affect flight, such as speeds, measurement data for different types of jet fighters, and the history of jet fighters. I like how each of the pages have math problems to do as part of the story, AND answers are listed in the back, which is very helpful. Each book also has a glossary and index. This title is a little more browsable than the previous title, but both would be a fun treat in a math class.