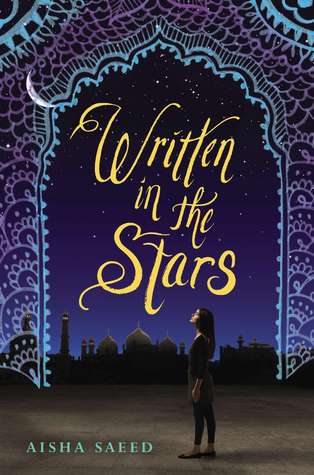 Saeed, Aesha.
Written in the Stars
March 24th 2015 by Nancy Paulsen Books
Naila knows that her parents won't be happy with her if they find out she's dating Saif. Not only has his sister brought disgrace to his Pakistani family, but Naila's traditional parents have forbidden her to date because they intend to arrange her marriage. She's counting down the days until she can go to college and live her own life, but makes the mistake of going to Prom with Saif. Her parents find out, and before she can blink, they are all visiting family in Pakistan. She enjoys it at first, especially getting to know her cousin Selma, but things soon take an ugly turn, and Naila realizes that her parents have not only arranged a marriage for her but set a date. She tries to escape, but they have taken her documentation, and bring her back after her one attempt. Even though Amin is a good guy, being forced into a marriage she doesn't want makes Naila understandably angry, but given her circumstances, there are few ways out. Can her cousin and Saif helf her escape?
Rich with cultural details, and brilliantly straddling the expectations of both US and Pakistani cultures,
Written in the Stars
offers a gripping portrayal of a girl who wants to make her parents happy, but realizes that this will not be possible, given their cultural differences. While Naila's parents, as well as her in-laws, are unwavering in their beliefs, we see Naila wondering what the best options are when her circumstances become dire. Is the best course of action to give up? Can she learn to be happy in a situation she can't control? Amin is also sympathetic as the husband who has great hopes that Naila will love him, but who eventually realizes that his family lied to him. However, he remains invested in the traditional culture not necessarily because he believes in it, but because he has seen few other otpions.
This is a slow paced novel, mirroring Naila's isolation and waiting. We see few glimpses of the world outside of the homes, because Naila is not afforded them, although the descriptions of the life inside the homes, from the food to the clothing to the awkward teas with prospective bridegrooms, are vibrant and detailed. The few moments when she does make attempts to flee punctuate the novel brilliantly, and make her continued captivity all the more poignant. The afterword assures us that she eventually is able to better her situation, and the notes from the author help to understand why she has written such a polemic against arranged marriages, even though she herself is in a happy one.
While readers who want happier stories about arranged marriages might prefer the ambiguity of Kavita Daswani's
Lovetorn
,
Written in the Stars
will appeal to those who like their romances with a side of problems. There are some details of Naila's married life that are disturbing, but they are described in such a way that a reader without prior knowledge will not grasp the full impact of what is occurring, so this would be appropriate for 6th graders and older.
Hurwitz, Laura.
Disappear Home
March 1st 2015 by Albert Whitman & Company
Shoshanna Ebersole has lived with her mother, Ella, and her sister, Mara, at the Sweet Earth Farm commune for years, but the three finally escape when Shoshanna's father, the drug addicted Adam, is overheard offering her to one of the other commune members as a "gift". Taking the commune's run down station wagon and $10 for gas, the three make it to San Francisco and find Judith still living in a house (pad) where the family once crashed. She's fed up with the drug addiction and unseemly types that have moved into Haight-Ashbury by 1972, and wants to move to Half Moon Bay, where some friends run a store that sells hippie artwork. When visiting, the Ebersole's car is identified as stolen and involved in a few crimes, including a hit-and-run. Luckily, the store owners know a farmer, Avery, who needs help and they move into Avery's barn and help him out. It's good that Judith is with the girls, because Ella is depressed and ill. When she becomes unable to care for her daughters, what will happen to the?
Strengths
: This reminded me a bit of Norma Klein's Sunshine, and I think it is probably the best coverage I've seen of commune life at the time. I'm sure that there were (and are) some very lovely communes, but this one showed the negative side of communal living while still having supportive, helpful people around for the girls. This will be great for the 1960s/70s unit my 7th grade teachers do.
Weaknesses
: There's a lot of drug use mentioned, and there is more sex alluded to (including a description of what 5 year old Mara saw, which is... borderline for me), but that was a big part of the hippie culture. Since it's not overly descriptive, I think I'll buy this. Very sad, but hopeful.
What I really think
: This will circulate with girls who want books about abuse as well as for the historical unit, so I'll be very pleased to get a copy of this.