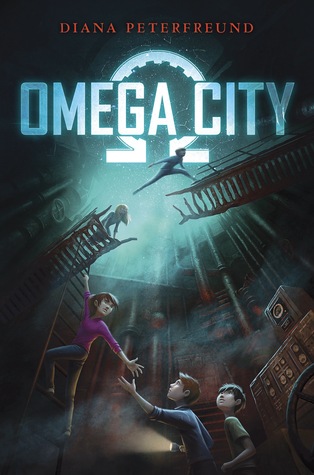 Peterfreund, Diana.
Omega City.
April 28th 2015 by Balzer + Bray
E ARC from Edelweiss Above the Treeline
Gillian and her brother Eric are trying to make a go of living with their scatter brained father after their mother has left. Because their father's book about a Professor Underberg and his inventions has been criticized and his research doubted, he has lost his university job, and the family is now living in their summer cabin while he earns a small living giving lectures and classes. Their father is dating again, but Gillian suspects that Fiona has other motives in going out with her father. Gillian also starts to realize that Underberg left something for the town where he lived, and enlists in the help of her best friend, Savannah as well as science geek classmate Howard and his older brother Nate to help her find out what it is. The clues are hidden in a park that Underberg donated to the town, and when the group (along with Eric) figure these out, they enter an underground bunker-like city that Underberg prepared when he thought the Cold War would end poorly for the United States. Fiona is looking for this city, too, and chases the group. The city hasn't aged well, and between booby traps set by Underberg, Fiona's minions, and the treacherous conditions in the underground area, it is all Gillian and her group can do to survive. Will they be able to make it out AND solve the mystery of Underberg's plans?
Strengths
: Interesting take on the Cold War (Which is trending, I think! Better than dystopias or vampires.), and a good dose of science thrown in. The city was fascinating and reminded me a little of a Star Trek episode, for reasons I can't begin to explain. The characters were all well developed and interestingly disparate.
Weaknesses
: The beginning was a little slow, and some details like Gillian and Savannah ordering pizza from Nate could have been left off. Once the group gets too Omega City, it's great, but it took a bit long to get there. Fiona was not the best villain.
What I really think:
This was better researched and more appealing than many MG books. Just under 200 pages, nice ensemble cast, fresh premise, and lots of actions. Funny moments, too. Pleasantly surprised. Will buy.
Gillian Seagret doesn't listen to people who say her father's a crackpot. His conspiracy theories about the lost technology of Cold War-era rocket scientist Dr. Aloysius Underberg may have cost him his job and forced the family to move to a cottage in the sticks, but Gillian knows he's right, and plans to prove it.

When she discovers a missing page from Dr. Unerberg's diary in her father's mess of an office, she thinks she's found a big piece of the puzzle–a space-themed riddle promising to lead to Dr. Underberg's greatest invention. Enlisting the help of her skeptical younger brother, Eric, her best friend, Savannah, and Howard, their NASA-obsessed schoolmate, Gillian sets off into the ruins of a vast doomsday bunker, deep within the earth.

But they aren't alone inside its dark and flooded halls. Now Gillian and her friends must race to explore OMEGA CITY and find the answers they need. For while Gillian wants to save her dad's reputation by bringing Dr. Underberg's secrets to light, there are others who will stop at nothing to make sure they stay buried…forever.
Diana Peterfreund has published ten novels for adults, teens, and kids, including the four-book Secret Society Girl series (Bantam Dell), the "killer unicorn novels"
Rampant
and
Ascendant
(Harper Teen),
For Darkness Shows the Stars (
a post-apocalyptic retelling of Jane Austen's
Persuasion)
, and
Across a Star-Swept Sea (
inspired by the classic series
The Scarlet Pimpernel)
. Her newest novel, OMEGA CITY, is a contemporary adventure novel for younger readers set in a secret bunker city somewhere under modern Maryland.
Her works have been named to the New York Public Library's Books for the Teen Age list, the Capitol Choices (metro DC-area) reading list, and the Texas Lonestar List, as well as having been named to Amazon's Best Books of the Year. In addition, she's written several critically acclaimed short stories and a variety of non-fiction essays about popular children's literature. Diana lives outside Washington D.C., with her family.