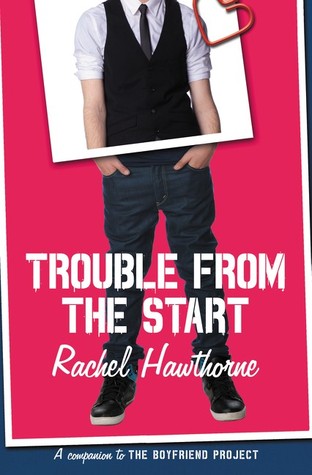 Hawthorne, Rachel.
Trouble from the Start
April 28th 2015 by HarperTeen
E ARC from Edelweiss Above the Treeline
Avery is a good girl; her father is a police officer who helps troubled kids, and she's a peer tutor and on her way to college to be a doctor. Fletcher has a wild reputation for womanizing and violence, so when he helps Avery home after she's had too much sweet tasting alcohol, Avery's reputation suffers-- especially since Fletcher has made bets that he can take her home. To make matters more complicated, Avery's father has asked Fletcher to live in the apartment over the garage. Fletcher does clear up the issue with Avery's reputation, and the two begin a romance that makes them both reassess their opinions of the other. They play a few little games with each other, dating other people and pretending not to be interested, but they are meant to be together and manage to overcome their difficulties.
Strengths
: Nice twist on the star-crossed lovers theme. I especially liked how Avery helps Fletcher with his algebra (after he doesn't graduate because he fails it), and he admits that he missed not only academic success but being with her by blowing off their tutoring sessions!
Weaknesses
: A bit too much alcohol, but it's portrayed in an instructive way. Fletcher's father is violent when drunk, so he doesn't drink; when he does, Avery is able to point out to him that he is not his father. Avery is drinking at the party. Otherwise, more YA, but okay for middle grade.
What I really think
: Hawthorn should be published in dust jacketed hardcovers, not paperback! Love her stuff, and it's good to see new titles from her.
This book comes out, too, but I'll try to read it before buying it.
Hawthorne, Rachel.
The Boyfriend Project
From Goodreads:
Kendall and her boyfriend, Jeremy, have been together forever, and Kendall is starting to wonder if Jeremy is a little boring. . . . So she embarks on a boyfriend makeover. But as Jeremy learns to strut his stuff, other girls start to notice him and, what's worse, he's noticing them back. Then Jeremy breaks up with Kendall and she realizes her makeover project was the ultimate disaster. Is the sweet boyfriend she loved gone forever?

A companion novel to Rachel Hawthorne's paperback original Trouble from the Start, this title is perfect for fans of summer beach reads and sweet treats.
Wyman, Carolyn.
The Great American Chocolate Chip Cookie Book.
October 7th 2013 by Countryman Press
As much middle grade fiction as I read, when I am set loose in the public library, I have a decided tendency to come home with piles of nonfiction. A 400 page history of the Cadbury company? Four or five books on grammar? A
history of paint-by-number sets
? Yes, please. So this newish book by Wyman, who has also done fabulous books about Jell-o, Spam, and a delightful tome called
Better Than Homemade
was something I had to pick up. Wyman's vast research and amusing writing style made this an absolutely delightful book. I was not disappointed.
Only I was, a bit. Not because this book lacked anything. To the contrary, this had everything from detailed history about Ruth Wakefield and the Toll House to the huge cookie obsession of the 1980s (which I completely missed, by the way), to the state of the cookies today.
What disappointed me is that my students will find this TOO long to pick up. The
Abdo
Food Dude
series would love to see Wyman turn her vast food knowledge to some 32-48 page books for middle grade readers. But she seems like a very, very busy lady. Oh, well. Maybe Abdo will soon come out with the third Food Dudes set.