Congratulations to
Maria Selke
for winning the Gabby Duran Prize package!
It's Marvelous Middle Grade Monday at Ramblings of a Wannabe Scribe and What Are You Reading? day at Teach Mentor Texts and Unleashing Readers. It's also Nonfiction Monday.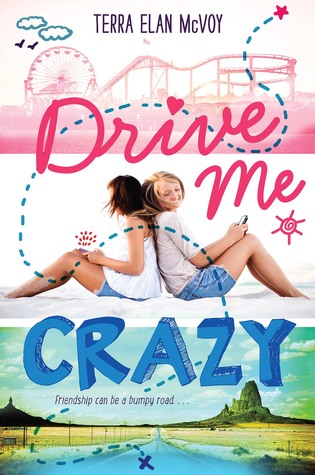 McVoy, Terra Elan.
Drive Me Crazy.
April 28th 2015 by Katherine Tegen Books
E ARC from Edelweiss Above the Treeline
Cassie and Lana are coerced into going on a road trip with their grandparents-- Cassie's Grandma Tess and Lana's Grandpa Howe have gotten married and want to take the girls, who seemed to hit it off at the wedding, on their honeymoon. Lana's pretty cool with the idea-- she misses her grandmother, but likes Tess and is glad her grandfather is happy. Lana is less excited, since she had a lot planned with her friends, whom she texts incessantly. There are tons of cool things that the group has planned, and the girls have a room of their own in nice hotels, but Lana is still bummed, especially when she finds out that her crush might like her and gets her phone number from her friends! Before long, though, Grandma Tess takes her phone away so she can be in the moment and with the people in the car, and Cassie is sure she will surely perish without the constant communication. Lana has reason to be unhappy as well, since her mother is sick and she is sure that her parents have sent her off because her mother is dying. Tess and Howe, seemingly enjoying dealing with two difficult teenagers, decide to travel from California to Maine to see the cabin that Howe used to own. The girls have no choice but to go along.
Strengths
: This had many things going for it. The trip is fascinating, and it was fun to see the quirky places Grandma Tess wanted to visit. Everyone is supportive of the girls, and even the issue with Lana's mother is resolved in a productive and yet realistic way. Cassie is a brat, but gets better, and both girls have problems that are not overly traumatic, but which are hugely problematic when one is 12. Extra bonus points for working in technology in a very realistic way.
Weaknesses
: Stretches the bounds of reality-- I really had to suspend disbelief that the grandparents would take the girls along on their honeymoon. That's probably because I am a lot closer to the grandparents' ages than the girls', and I would like my OWN adventure, thank you very much!
What I really think
: Fabulous book that will sell itself. Great literature? Maybe not, but balances fun with a bit of an issue very well. Other authors take note: THIS is the sort of book I need!
Frydenborg, Kay.
Chocolate: Sweet Science & Dark Secrets of the World's Favorite Treat
April 7th 2015 by HMH Books for Young Readers
E ARC from Netgalley.com
At 272 pages, this has more information about chocolate than anyone could ever want! I liked that this started out with an event with which I was unfamiliar-- a campaign by children to keep chocolate bars from rising in price from 5 to 8 cents back in the 1940s. From there, the entire sociopolitical, economic and philosophical history of chocolate is delineated. This makes it great for reference for a report, but unwieldy for pleasure reading.
There are a decent amount of pictures, plenty of science facts about chocolate, and is clearly well-researched. Even little known facts, like
Hershey's town in Cuba
, are covered.
One of the state standards for writing for my students is that they learn to narrow down their topic. While I enjoyed this, I couldn't help but think that it would have been a better book for the target demographic if the author had decided on a more focused bit of information to present.