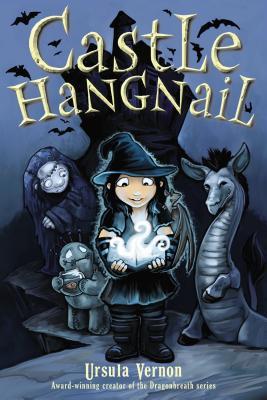 Vernon, Ursula.
Castle Hangnail
21 April 2015, Dial Books
E ARC from Edelweiss Above the Treeline
Molly shows up at the derelict Castle Hangnail and informs its Guardian that she is the new keeper, and a witch at that, even though she looks suspiciously like a little girl. Since the castle will not be able to go on if there is not a new keeper, the Guardian grudgingly agrees to let her in, and gets her set up to take over the castle. There is a list of required activities, such as smiting someone (and Vernon knows the principal parts of the verb! Hooray!), winning over the townspeople, etc. Molly tries her best, aided by her somewhat goofy but utterly engaging staff, even though secretly, she knows she doesn't belong at the castle and that sooner or later her parents will expect her home from "summer camp". Each task is completed with good humor, following the intent of the law rather than the letter, but when the castle's rightful keeper shows up, even the Guardian realizes that Molly is a perfect fit for Castle Hangnail, and must find a way to stay.
Strengths:
This was absolutely delightful. For younger lovers of lighthearted fantasy, this is perfect. I can see several of my students wanting to be Molly for Halloween in about third grade. The final illustrations are bound to be wonderful, and looking at the price point on this, I think it will be a dust jacketed hardcover, which is always better than plain paper-over-boards for my library!
Weaknesses
: This will struggle to find readers in my library. It really would be best for very strong readers in grades 3-5.
What I really thought
: Might be a bit young for my readers, and a bit long, but the
Dragonbreath
books do so well, and are so clever, that I may buy this one and make the effort to thrust it upon children. Once they pick it up, I think they'll like it, but there is an odd disconnect between interest level and length (384 pages), and it is not very similar to
Dragonbreath
.
Northrop, Michael.
Amulet Keepers (Tombquest #2)
April 28th 2015 by Scholastic Press
E ARC from Edelweiss Above the Treeline
Ren and Alex are on a plane to London to stop the Deathwalkers and find Alex's mother (after the events of
Book of the Dead
). On the way there, the plane runs into a cloud of blood rain that is explained as algae bloom. They also run into Alex's cousin, Luke, who is in London for a sports camp. Ren and Alex are met by a driver from the British Museum, since Dr. Aditi couldn't make it... except Liam turns out to be a thug from The Order and tries to kidnap them. Luckily, Luke is more astute than the other two and doesn't trust Liam, so he saves them. Dr. Aditi shows up and whisks them away to stay in rooms near the Campbell Collection of Egyptian artifacts. The two research Deathwalkers and help a mummified cat, Pri, and eventually figure out that they need to go to Highgate Cemetary to investigate further. They almost get their souls eaten, and someone close to them does. They figure out that there is a tomb raider from the 1800s, Willoughby, who had himself mummified rather inexpertly, and he has risen and is causing many of the problems in London, which include many missing people in addition to the rain of blood. There are lots of harrowing encounters, but Ren manages to get her own amulet from an unlikely source, and she and Alex help defeat Willoughby with the help of Luke as well as Robbie, a boy who had been kidnapped. Alex's mother is nowhere to be found, though, and when Dr. Todtmann shows up, he informs the group that they are off to Egypt. Valley of Kings come out 25 August 2015, and two more books follow.
Strengths
: This is a much stronger book than the first, since it doesn't start with Alex's infirmities, although it mentions that he had them before he died the first time. Lots of good action, evil scientists, and romps around London. Excellent, with a
39 Clues
vibe. Have only looked at the online stuff very briefly, since I have no attention span for it.
Weaknesses
: Seemed unlikely that Luke would keep crossing their paths, and I wanted to see more character development from Ren.
What I really think
: Will buy the series and be sad when the horrible crappy bindings fall apart.