Mowry, Tia and Tamera.
Double Vision (Twintuition #1)
21 April 2015, HarperCollins
E ARC from Edelweiss
Twins Caitlyn and Cassie move from San Antonio to the small town of Aura, Texas because their mother has been hired by the police force there. When their mother was in the army, they moved around a lot, so the girls wanted to stay in San Antonio. They certainly didn't want to move to a small town and live in a small rundown house. When the kids in school are mean, and both girls start to have weird visions, they are more determined than ever to go back "home", especially when a boy in their class claims that their mother "took" his uncles' job. Despite their differences in dealing with their difficulties, the girls want to help out their mom. Can their visions be changed before bad things happen?
Strengths
: There are some really good, positive elements in this. I love the cover. Magical realism with African-American characters is hard to find for middle grade. Their mom's job is a nice touch, and she is a hands on parent. Story is decent.
Weaknesses
: The character development didn't quite work for me-- the mean kids in the school didn't really have any motivation, and a lot of the interactions with the twins didn't make sense. The magic wasn't well explained, either.
What I really think
: I'll probably buy, since there are some good things in the book, and the cover will entice a lot of girls to pick it up. I just wish it were better.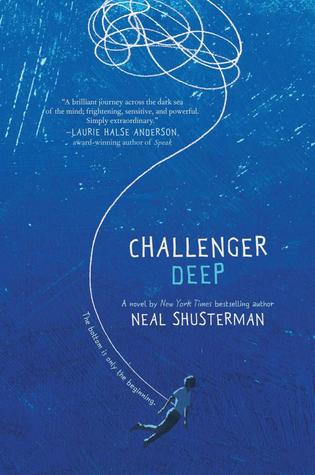 Shusterman, Neal.
Challenger Deep
April 21st 2015 by HarperCollins
E ARC from Edelweiss Above the Treeline
From the Publisher:
"A captivating story about mental illness that lingers long beyond the last page, the novel features haunting interior illustrations by Neal Shusterman's son Brendan.
Laurie Halse Anderson, award-winning author of Speak, calls Challenger Deep "a brilliant journey across the dark sea of the mind; frightening, sensitive, and powerful. Simply extraordinary."
There's nothing bad one can say about this book because Shusterman is a brilliant writer and this is clearly a story he felt he needed to tell. For middle grade readers, it is overly confusing and sad, so I will not buy it.
Shusterman was the favorite author of a student I once had who is no longer with us, so I had to read this. All I can say is that the book made me feel that my own personal family situation is fortunate in comparison. Mr. Shusterman might well feel that he is the luckier one.