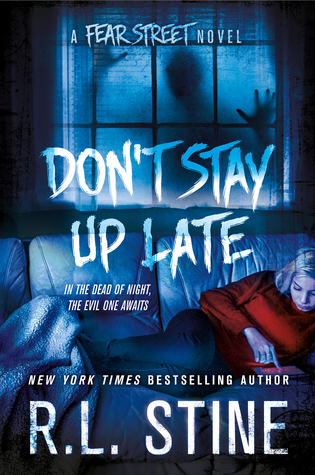 Stine, R.L.
Don't Stay Up Late
April 7th 2015 by St. Martin's Griffin
E ARC from Netgalley.com and
Young Adult Books Central
Lisa is a rebellious teenager who acts out and disobeys her parents… until her bad behavior lead to a car crash that kills her father. Lisa and her mother are injured, but Lisa's injuries seem to be more psychological. She hallucinates quite a bit-- seeing her dead father, her missing dog, and other odd things. She sees a therapist, who suggests that Lisa would benefit from constructive work. The therapist knows a woman who is looking for a sitter for her son, so Lisa ends up babysitting Brenda's son, Harry, at their house on Fear Street. Harry is a delightful child, but Brenda cautions Lisa that he should not be allowed to stay up late. Lisa hallucinates while watching Harry, thinking that she is seeing a creature in the house, and later other teenagers turn up dead. Lisa's boyfriend Nate tries to help Lisa, but it turns out that he has known Brenda and Harry for longer than he will admit. In the end, there are deep secrets behind Brenda's family life that are not unusual for someone who lives on Fear Street.
While Lisa slowly figures out her own mental state, she is also able to throw some light on the other characters around her, who are definitely not what they seem. The fact that her friends have hidden their pasts from her makes the situation more sinister and serious.
Certainly, readers who read the Goosebumps books when younger will be attracted to more titles by Stine, but the Fear Street books are a good choice for any teen who likes paranormal books, ghost stories, or even reluctant readers who would rather be watching a horror movie or CSI-type television show. As a librarian, I am beyond thrilled to see these books published in hard cover format, since I still have prebound copies of the original, early 1990's Fear Street books in my library, and they are crumbling like a vampire caught out in the morning sun!
Stine is the master of the unbelievable scary situation. Or is what he describes really unbelievable? For readers new to the Fear Street sagas, Stine gives a bit of background information on why there seem to be so many odd occurrences on that street, but the new books (this one and Party Games) can be understood on their own. In Don't Stay Up Late, Lisa is caught up in a variety of horrible things going on around her, but she is powerless to do anything about them until she can figure out why she has so many hallucinations. We know that the two things are connected, but she doesn't, giving an eerie thrilling quality to every murder and monster sighting. If the monsters aren't real, are the murders? But if the murders are real… are the monsters?
Strengths
: Stine in hardback. Sort of a can't lose book. I saw the "twist" coming miles away, and students might as well, but the majority of the scary parts are unlikely, which is what draws readers to Stine. Will definitely purchase.
Weaknesses
: Killing Lisa's father was unnecessary and seemed cruel. Again, plot fairly transparent. Not the best quality of writing I have ever read.
What I really think
: Meh. Not my sort of thing, and more painful than other Stine books, but I'll buy it for that small but loyal section of readers who make me keep almost two shelves full of rotting, twenty year old paperbacks because they love Stine so much!
Harkey, Faith.
Genuine Sweet
April 7th 2015 by Clarion Books
E ARC from Edelweiss Above the Treeline
Genuine lives in the very small town of Sass, Georgia, with her grandmother and her drunken father, Dangerous Dale, who is always out of work. Genuine's grandmother informs her that she is a wish fetcher, and shows her how to get magic from the stars to grant people's wishes. Genuine doesn't know enough not to go telling people; it's not forbidden, but frowned upon. She tells Jura, who is from the big city but would like her mother to get a job in Sass. Genuine bakes magical biscuits, and Jura's mother gets a job fixing cars in town. Realizing that she should be able to get some benefit out of the wishes for herself, Genuine starts trying to trade wishes for things she and her grandmother badly need, like food. This works out fairly well until the sister of a woman Genuine's mother didn't save from dying stirs up trouble for Gen. While some people in the town turn against her, others don't, and with Jura's help, Gen tries to spread her wishes internationally, even curing hunger in Africa. There are some things that Gen can't change, however, and when tragedy hits home, she is glad to have the support of those around her.
Strengths
: This was a surprisingly readable book with fairly solid magical realism. We don't have any explanation for why Genuine and her family are wish fetchers until the very end of the book, but the suspension of disbelief is not that hard. There are some good characters, and the plot moved quickly even though there wasn't much action.
Weaknesses
: This is VERY quirky/Southern, and I'm not sure how my readers would react to that. I'm sure that people who liked
A Snicker of Magic
will like this one a lot. (Including Melissa over at
Book Nut,
who likes quirky Southern a WHOLE lot more than I do.)
What I really think
: Probably won't buy this for my school library, because I don't think my readers will pick it up. I can see this being very successful in libraries with a lot of requests for magical realism, however.