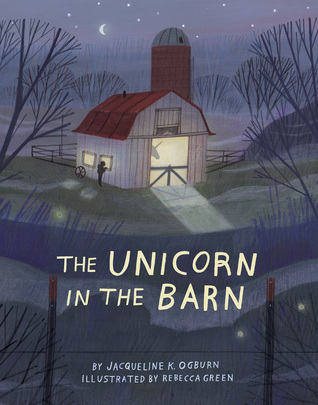 Ogburn, Jacqueline K. and
Green, Rebecca
(illus.)
The Unicorn in the Barn
July 4th 2017 by HMH Books for Young Readers
E ARC from Edelweiss Above the Treeline
Eric Harper is irritated when he sees a "No Trespassing" sign on his treehouse. He knows that his father had to sell his grandmother's house and some of their land to pay for her nursing home, but the treehouse is still his. He meets the new occupant of the house, Allegra Brancusi, who is living there with her mother, who is running a veterinary practice there. He also sees a shimmering white horse that appears to be hurt... but it turns out to be a real, live unicorn. Very matter-of-factly, Dr. Brancusi explains to Eric that she has a number of magical creatures under her care, and since it's hard to find people she can trust to work with the animals, she asks Eric to come and work for her. This job consists mainly of scooping unicorn poop, but Eric feels better just being around Moonpearl. Things are somewhat difficult at home. His mother died when he was young, his older brother is busy being a teenager, his father is very gruff and seems overburdened, and Eric misses his grandmother. He visits her once a week, but it's not the same as having her nearby. After his grandmother picks a few unicorn hairs off of his jacket, Eric notices that her arthritic hand seems improved. He knows that Moonpearl's magic can heal people, but since the unicorn is pregnant with twins, Dr. Brancusi doesn't want to take any chances with her health. As the fall turns to winter, Eric must deal with his grandmother's declining health, and he and Allegra become friends while tending to the animals.
Strengths
: This was delightful! I would have adored this when I was in upper elementary school. There is a pregnant unicorn, for heaven's sake! And a talking Cheshire cat! Eric's relationship with his grandmother was very sweet, and while this was sad, it wasn't hand-wringingly soppy. I liked how Allegra, Dr. Brancusi and Eric all worked together to help Moonpearl, and I thought the twist at the end of the story was a nice touch. I almost didn't read this one because it looked twee, but it ended up being a book I can easily hand to any of my students who want magical realism.
Weaknesses
: I wanted Moonpearl to heal Eric's grandmother as much as he did, but even in fantasy books, that's not necessarily what happens.
What I really think
: I think this begs for a party. Who knew there was a
unicorn-themed food trend
?


https://www.bbcgoodfood.com/howto/guide/5-ways-unicorn-food
Mansbach, Adam and Zweibel, Alan.
Benjamin Franklin, You've Got Mail
June 20th 2017 by Disney-Hyperion
Copy received from the publisher for review at
Young Adult Books Central
After the adventures in
Benjamin Franklin: A Huge Pain in My A**
, Ike is worried about a letter he has gotten from his famous friend from the past... it says "Help!" Of course, now that mail can travel back in time with old postage stamps, Ike has his (now) girlfriend Claire send him back to Franklin. He ends up near the mailbox on Franklin's porch, but the house has been burned down. Immediately noticing that his clothing will make him suspicious, Ike gets himself outfitted with suitable garments and goes in search of Franklin to find out what is wrong. He finds his friend without money, so the two set up a snake oil business to fleece local coal miners out of their money to "cure" their black lung. Once they have a bit of cash, they manage to book passage to France, since Franklin's need for help stems from the increasing problems with the British. On the boat, the two meet Jefferson and Adams, and head off for an audience with Marie Antoinette and Louis XVI. Because they'd spent most of the trip inland eating oysters and drinking champagne, they all become violently ill right when they have the audience, and it's up to Ike to save the day. Will his impassioned speech be enough to get the colonists help and save his time from being wildly different?
This is a goofy take on history that will be popular with fans of Kinney's
Wimpy Kid
and other irreverent middle grade books which celebrate potty humor and unlikely heroes. Ike is interested to travel back in time but doesn't have too much of a concept of what language and manners he should embrace, so he frequently angers people he meets. He refers to Franklin as B-Freezy, for example, and almost blows the audience with Antoinette before settling down and trying to fit in.
One of the best parts about this is Claire's letters from the "future"; she informs him that things are not going well, but also keeps an eye on any historical anomaly's that crop up. Once Ike returns, there are a few things that are different, which is a bit of an unusual turn for a time travel book.
Fans of Potter's The Left Behinds and Limbaugh's Rush Revere books will want to pick up these two books. For more accurate historical content, they can investigate Gutman's
Flashback Four
or Qwerty Stevens time travel books.
My biggest complaint about this book is that while trying to replicate the Colonial affectation of capitalizing words, the authors have chosen to capitalize nouns, verbs and adjectives randomly. I'm pretty sure that the words that were capitalized were always nouns, since the tradition stemmed from a similar German practice. I would have thought that was a fairly well known fact. While there were coal mines in Virginia in the 1740s, I wasn't convinced that there would have been large enough communities of miners with black lung to support the sales of Ike's concoction. The historical research involved in this book was probably tenuous at best.