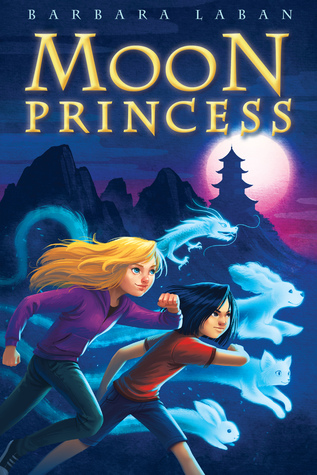 Laban, Barbara.
Moon Princess
July 25th 2017 by Chicken House
E ARC from Edelweiss Above the Treeline
Sienna and her father move from England to Shanghai for his banking job, and also because Sienna's mother, who was working in Shanghai, has disappeared. Her father has given her up for dead, since the police have stopped looking, but Sienna and her invisible dog friend, Rufus, feel she is still alive. Since he is so busy, Sienna's father hires a housekeeper, Ling, to take care of her, but the woman is mean and keeps Sienna locked in the apartment. On the few occasions she has made it outside, she has caught the eye of a boy who works in a restaurant.When her father is working out of town and she catches Ling making copies of her mother's jewelry in order to steal the originals, Sienna runs away. She pairs up with the boy, Feng, who knew her mother. Feng's brother Gege is also missing. The two decide to travel to a temple for Guanyin where the two were working, and they meet not only a helpful doctor, but also Sienna's mother's invisible friend, Minka the cat, and Feng's invisible dragon. Will the children be able to find their missing relatives and unravel the mystery of the temple.
Strengths:
It's good to see mystery adventures set in China, and elementary readers may be interested in the imaginary animal friends. Sienna and Feng have an interesting friendship, and do try to save the day.
Weaknesses:
This is a German/UK title, and the handling of tales from other lands seems a bit different from the way it would be handled in the US. I was hoping for more of a #ownvoices treatment. The author did major in Far Eastern studies, but something about this felt half a bubble off. Ling's depiction seemed a bit like a stereotypical villain, which lessened her impact for me.
What I really think:
I prefered Kat Zhang's
The Emperor's Riddle
or O'Brien's
In the Shadow of the Sun
for middle school.