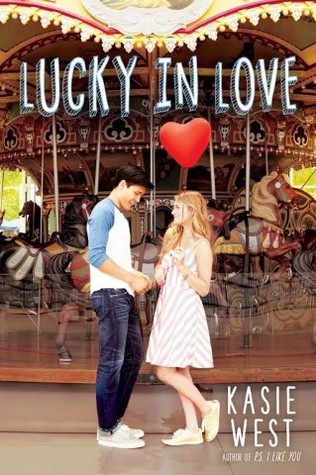 West, Kasie.
Lucky in Love
July 25th 2017 by Scholastic
E ARC from Edelweiss Above the Treeline
Maddie works hard so that she can improve her lot in life. She studies constantly, has a 4.25 GPA, and is ready to leave her bickering parents and college drop out brother in order to attend college and become a veterinarian. She has a job at the zoo to further help her resume. On her 18th birthday, which has been rather a bust, she impulsively purchases a lottery ticket. When she 33 million dollars, life because bother easier and harder. She gives her parents and brother each a million dollars, and this eases tensions around the house. She makes some impulse purchases, such as an expensive car and clothes, a yacht party, and an investment in a long-lost uncle's real estate venture, but realizes that she can't spend money recklessly forever. Her best friends start to treat her differently, and an article in the newspaper paints her in a bad light. The one constant seems to be Seth, with whom she has worked in the zoo. The two start to become closer about the time her ticket wins, but she doesn't tell him about her windfall, so he doesn't treat her any differently. When her college plans are in jeopardy for several reasons to do with her winnings, and even her relationship with Seth is jeopardized, Maddie realizes that while money can solve some problems, others have underlying causes that can't be changed with a blank check.
Strengths
: This was a perfect, light romance book for middle school readers. I'm always looking for stories similar to the
If Only
romances: high school characters with school and boyfriend issues that don't involve any alcohol consumption of more than kissing. This had the added benefit of including a lottery win, making it a perfect middle grade fantasy as well. Great cover, and as an added bonus, a love interest who is a Korean-American.
Weaknesses
: The brother's gambling problems and possible depression weren't resolved very well.
What I really think
: I can't keep enough of this kind of book on the shelf, so I will definitely purchase!