Kloepfer, John.
Monsters Unleashed
July 25th 2017 by HarperCollins
E ARC from Edelweiss Above the Treeline
Manny and Freddy are working on a monster movie based on Freddy's drawings. They just want to print out some plastic models on the art room's 3-D printer, but their teacher tells them it isn't working properly and has to be returned. Undaunted, they sneak in and print the models... which come alive. Their first thought is to ask for help, but they are already on the principal's last nerve, so want to lay low. This is even harder when the monsters get wet, and the plastic expands. There are three monsters, and each of them is angry, dangerous, and on the move. It's hard for Manny and Freddy to outwit them, until they remember that each of the monsters is based on a fellow student who has been bedeviling the boys. With the school thrown into chaos, they find their nemeses and work together to subdue the monsters and restore some order to the school, and in doing so, find out more about just what motivates that classmates with whom they have not been getting along.
Strengths:
Kloepfer's
Galaxy's Most Wanted
and
Zombie Chasers
series are very popular with my students because they combine adventure, illustrations, and goofiness in an appealing way. The books are short and easy enough to appeal to elementary students, but fast paced and substantive enough that middle school students find them a pleasant diversion. This has even more complex issues than the other books, and I was intrigued that the monsters had the attributes of the classmates. Interesting premise.
Weaknesse
s: Wasn't as keen on the Mark Oliver illustrations, mainly because the Steve Wolfard ones were the perfect level of
Mad Magazine
style goofy for middle school.
What I really think
: Definitely purchasing. I do get requests for books with monsters in them, and they can be hard to find.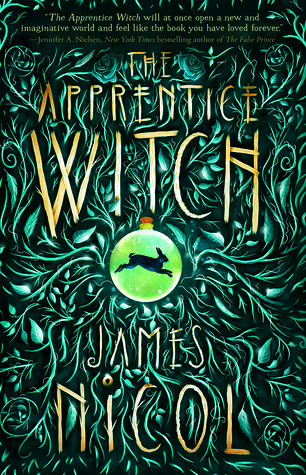 Nicol, James.
The Apprentice Witch
July 25th 2017 by Chicken House
E ARC from Edelweiss Above the Treeline
Arianwyn Gribble fails her witch evaluation in a spectacular fashion, and is made an apprentice and sent to the far flung and long abandoned town of Lull, mainly due to her grandmother's intervention. Feeling endures the long bus ride out, but as they near Lull, they are attacked by a creature from the Grim Wood. Arianwyn manages to save the group, and makes fast friends with Salle, a failed actress whose parents run the local inn. Mayor Belcher is not easy to get along with, but shows the apprentice witch to the long abandoned Spellorium, where she finds traces of the last witch to take care of Lull. There's lots to do-- infestations of snotlings, charms to mend, and a wounded magical hare that becomes her pet. Her supervisor, Miss Delafield, tries to help oversee operations, but doesn't understand the true threat facing the area, which has been plagued by hexes and annoying and dangerous animals from the forest. When the mayor's niece (and Arianwyn's enemy from school) Gimma, arrives in the town on a "vacation", Arianwyn has to deal with not only the rising forces of evil, but also Gimma's incompetence. Will she be able to deal with the forces that have been awakened by long forgotten glyphs and pass her witch evaluation?
Strengths:
This had a nice British feel to it-- a little bit like a 1940s era version of Delaney's
The Last Apprentice
series. I really enjoyed the characters, especially Sella and the grandmother. The Spellorium was interesting, as was the town, and it was fun to see Arianwyn grow as a witch.
Weaknesses
: I would have preferred there to be more explicit world building and less of Gimma's mean girl drama. There are a few details about the world of Lull, but not enough. Arianwyn's father is out protecting Veersland against the Urisian forces, but we don't get a lot of information about that, or about why magical creatures might be on the loose.
What I really think
: This one would be enjoyed by readers who like The Crooked Sixpence and The Dragon with a Chocolate Heart, and since I will be recommending those a lot, I think I will buy this one as well. I do have an increasing number of fantasy readers.