It's Marvelous Middle Grade Monday at Ramblings of a Wannabe Scribe and What Are You Reading? day at Teach Mentor Texts and Unleashing Readers. It's also Nonfiction Monday.
I'll have to pay a lot more attention to Nonfiction Monday now that I will be working through the nominations (starting 1 October!!!) for the Cybils YA Nonfiction Panel with the following lovely folks!
Karen Yingling
Sherry Early
Karen Ball
Louise Capizzo
Jennifer Rothschild
Terry Doherty
Katy Manck
Adrienne Gillespie
Danyelle Leach
Jessica MacDonald
Levine, Deborah A. and Riley, JillEllyn.
Icing on the Cake (The Saturday Cooking Club #2)
September 22nd 2015 by Aladdin
E ARC from Edelweiss
This second book is from the point of view of three friends, but Liza has the most pressing issues. Her father has moved to California in the wake of her parents' divorce, but as her 13th birthday approaches, her grandmother thinks she should have a NOT mitzvah, since the family is not religious. A party is fine, Liza thinks, but when her grandmother goes overboard and she sees her mother smiling during phone conversations with her dad, she plots to have her dad come a week before the party in order to get her parents back together. Frankie is still struggling with her disorganized household filled with obnoxious brothers, and uses Lillian's older sister Katie as a model and starts restricting her diet and trying out for track. Lillian is interested in one of the boys in the cooking class, wants to help Liza out with her party, and still feels like the newcomer to the group, which she is. The girls and their mothers all take another cooking class from a television chef with a cute son, but Liza is concerned that her mother is flirting too much with him. The birthday party is rather painful, but Liza's friends come to the rescue.
Strengths
: This is a series that realistically portrays several different kinds of families. Liza's desire to have her family be the way it was is not unusual, nor is Frankie's irritation at the boisterousness of her brothers. Lillian's calm, organized household is a nice foil for these, but doesn't make Lillian any happier than the other two. The cooking class has loads of good information about different kinds of cooking, this time dessert, and the New York City setting makes sense.
Weaknesses
: I wanted to know more about Lillian's family-- maybe next book.
What I really think
: The Mix books really are quite delightful, and I am always pleased when they are offered in jacketed hardcovers. Very fun!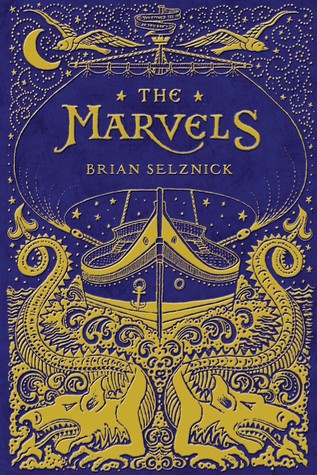 Selznick, Brian.
The Marvels.
September 15th 2015 by Scholastic Press
Everyone under the sun will review this one, so I will be brief. I don't understand the appeal of Selznick's work for middle grade readers. If the books had no pictures, I would never be able to get them checked out due to their somewhat odd historical settings. Students do love the pictures, and love to carry around the great ponderous tomes (which fall apart quickly and spectacularly), but to me, many of the pictures are murky and unclear. This book in particular, with its complicated backstory that we have to draw primarily from the pictures, is confusing, especially when we discover the truth about the main character's uncle and his family. I'm also sure that this will be lauded (and probably denigrated by some readers) for its diversity, but students aren't really impressed one way or the other by gay characters these days. To them, that's just life. I've already preordered a copy, because I know it will be read, and there's certainly nothing horrible or inappropriate about it. Selznick has created an interesting new art form with his heavily illustrated, partially wordless middle grade novels, but they are just not my thing.