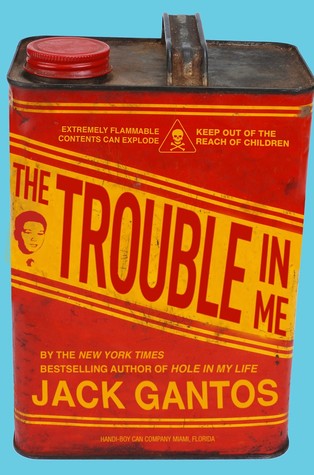 Gantos, Jack. The Trouble in Me.
September 1st 2015 by Farrar, Straus and Giroux (BYR)
E ARC from Netgalley.com
Working backwards from his first memoir,
A Hole in my Life
, Gantos revisits his childhood in Florida when he first realized that he was attracted to trouble. Specifically, trouble in the form of older neighbor boy Gary Pagoda, who has returned to his troubled family after time spent in juvenile detention. After setting the family grill ablaze and reducing all of his father's birthday hamburgers to ashes, young Jack meets Gary and is somehow attracted to his bad boy demeanor. When Gary introduces Jack to such activities as pouring gasoline on the pool, setting it on fire, and hurling powerful fireworks into it, Jack decides to embark on a series of bad decisions involving lies, theft, and more pyromania.
Strengths
: Well, this would certainly appeal to some of the hard core nonreaders who fancy themselves (or who actually are) juvenile delinquents. Readers who want to know where some of the
Jack Black
plots come from, or want to know how Gantos' own father is similar to
Joey Pigza's
will find this illuminating.
Weaknesses
: First and foremost, I am afraid to have this in my library, lest some children decide to replicate the pyrotechnics and burn themselves. There is also a very disturbing scene with a puppy-- it ends well, but still. I feel very sorry that Mr. Gantos' life was so troubled, but I can't say that I'm much of a fan of his work. The only Gantos books that circulate well are the first two Joey Pigza books, and only because the first is a 6th grade core novel. The fifth book,
The Key That Swallowed Joey Pigza,
was only checked out once this year... by a child who thought it was the second book.
What I really think
: An interesting and illuminating book that I will probably not purchase.
Rissi, Anica Mrose.
Anna, Banana, and the Big-Mouth Bet (Anna, Banana book 3)
September 8th 2015 by Simon & Schuster Books for Young Readers
E ARC from Edelweiss Above the Treeline
Anna and her friends are back, and this time Anna makes a bet with annoying class clown, Justin, that her loose tooth will come out before his does. If she wins, he will leave her, Sadie and Isabel alone, but if Justin wins, Anna must do a funky chicken dance in class! When the girls are discussing loose teeth, Anna realizes that Isabel still believes in the tooth fairy. Since she has an older brother, Chuck, she had been informed otherwise. She's not sure if she should be the one to break the news. When she does, Isabel tells her that the way that tooth fairy magic works is that you have to believe in them, so when her tooth finally falls out, Anna has to test that theory. She and Justin come to an agreement, and everything works out.
Strengths:
This addresses several issues that are important to third graders-- friends, loose teeth, and the mythology of youth! Also, vocabulary spelling words! I loved how brave Anna was in trying to get her tooth out so as not to let her friends down, and her ingenuity in dealing with Justin. I also thought the way the tooth fairy belief was handled was quite clever.
Weaknesses:
Too young for middle school. Fun fact: I read this on the 44th anniversary of losing MY first tooth. On July 4, 1971, I wiggled my tooth while watching the fireworks, and it came out the next day. I think the tooth fairy left a nickel!
What I really think:
Definitely would buy this series for an elementary school library or younger reader.