It's
Marvelous Middle Grade Monday at Ramblings of a Wannabe Scribe
and
What Are You Reading? d
ay
at
Teach Mentor Texts
and
Unleashing Readers.
It's also
Nonfiction Monday
.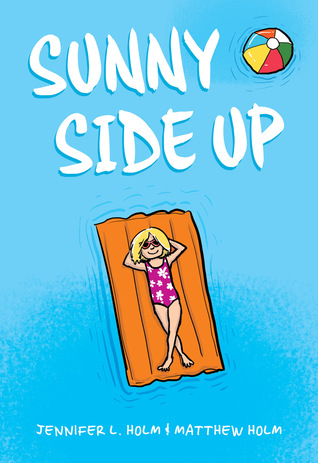 Holm, Jennifer and Matthew. Sunny Side Up
August 25th 2015 by GRAPHIX
E ARC from Edelweiss Above the Treeline
In this graphic novel, Sunny is ten years old in 1976, and is sent from her home in Pennsylvania to spend time with her grandfather at his retirement community, Pine Palms, in Florida. There are few chidlren her age there, although she does befriend Buzz, who is the son of the groundskeeper. She and Buzz read comic books, rescue old lady's cats for pocket money, and go swimming. With her grandfather, Sunny goes to Early Bird Special Dinners and has to put up with the hide-a-bed in his apartment, and his smoking, which he tries to hide. In flashbacks, we learn about Sunny's much older brother, Dale, who runs with a bad crowd and drinks and smokes. Sunny loves her brother but not the way he is acting, especially since he was the reason she was sent to her grandfather's.
Strengths: I was ten in 1976, and in 1974 my family went to Disney World and also visited my father's cousin Amilda, who lived in New Smyrna Beach. This hit every possible nostalgia button for me! On top of that, it addresses a serious concern (families struggling with addictions) in a way that is appropriate and accessible for younger children. Like Smile and El Deafo, this will fly off the shelf. Sad subjects are made eminently readable when accompanied by brightly colored pictures.
After I finished this, I wanted to read this again. That NEVER happens.
Weaknesses: More explanation of exactly Dale had trouble with would have helped me. Plus, Ms. Holm TOTALLY needs to write a historical novel set in 1976. Man. Made me miss those red, white and blue plaid pants I had!
What I really think: Buying two copies. At least.
And yes, that's me in my "Bicentennial Outfit".Even my shoes were red, white and blue. The camera case was from the 1972 Summer Olympics. No idea where the folks found that.
Bernstein, Jonathan.
Bridget Wilder: Spy-in-Training
September 1st 2015 by Katherine Tegen Books
ARC from Young Adult Books Central and reviewed there
Bridget isn't expecting a whole lot for her birthday from her busy adoptive parents, but she thought she might get a card or
something
. Instead, her older, trouble making brother Ryan just wakes her up to let him in the house after a night of carousing, and her perfect younger sister Natalie wants her to help with a fund raiser. Even her sort-of friend, Joanna, is really only concerned about posting mean stuff about fellow classmates on her web site. When she gets a bag with a cell phone and a gift card to a fancy boutique, she thinks her parents have given it to her, but they are truly regretful that they didn't. Bridget goes to the boutique, where she is given a very high tech track suit by Xan, and eventually the cell phone rings. It is Spool, an agent who informs her that her biological father is really Carter Spike, a super secret agent for Section 23, an organization so deeply underground that the CIA doesn't even know about it. Her father wants her to start spying, starting with someone at school, and moving on to the daughter of a business magnate. In order to spy on the businessman, Bridget must befriend his daughter, which is no easy task. Her track suit gives her super speed and agility, which she uses to defuse local hoodlums who attempt to beat up Dale Tookey, a geekish boy from her school. The people at her school aren't all who they seem to be, and Bridget's entry into the world of espionage is fraught with double agents, deception and a malfunctioning, weaponized, Smoky Pear lip balm.
Middle grade fiction often capitalizes on the very typical middle grade concern of self identity, and Bridget's desire to connect with her biological father is both endearing and amusing. She feels like an outsider at school, and her only friend is someone she doesn't really like, something which contributes to the many middle school friendships that dissolve about halfway through seventh grade. It's telling that the confidence engendered by her track suit and her spy assignments translates not only into new friendships, but also into a budding romance with Dale. Her place in her family, as not only the middle child, but also as the only adopted child, is handled realistically as well.
The other characters in the book are fleshed out as well. Dale is introduced merely as the target of some bullies, but becomes more than the reader can imagine. Joanna is unflinchingly wicked. Ryan has a change of heart, and Natalie is not the perfect child that she seems. The parents are busy, but truly care about Bridget and want her to be happy.
This is not lacking in the elements that make a great spy novel, either. We have Spool, the
Charlie's Angel
type talking head, who supplies Bridget with the aforementioned lip balm as well as Tic Tac cameras and a laser that can cut a Mercedes in two. There are divided loyalties, unexpected allegiances, and awesome chase scenes. Personally, I just want the track suit programmed to replicate all of her father's physical skills, especially since wearing it even makes her faster without it!
For fans of Gibb's
Spy School
, Rylander's
Code Name Zero
or Sanderson's
Alcatraz Versus the Evil Librarians
,
Bridget Wilder: Spy in Training
will go over as well as a poshly wrapped birthday package on the porch of someone who thinks everyone has forgotten her birthday!