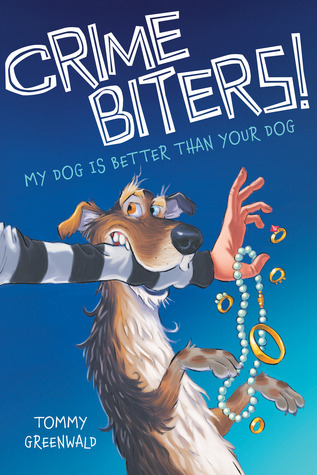 Greenwald, Tommy.
My Dog is Better Than Your Dog (Crime Biters #1)
September 29th 2015 by Scholastic Press
Copy received from publisher
Also reviewed at
Young Adult Books Central
Jimmy's life is anything but calm in the days leading up to 5th grade. His mother is busy at work, his father finally has some interviews for jobs, he has a funny blotch on his face, and his father finally agrees to let him have a dog! They pick out a quiet, well behaved dog at the rescue center. Jimmy wants to name the dog "Happy", but his dad hears "Abby". Good enough. Abby does fairly well but runs afoul of Mrs. Cragg, the new babysitter hired since Jimmy's dad is busy with interviews and older sister Misty is too busy as well. Jimmy and his best friend Irwin start to notice some strange things about the new dog. Abby doesn't like sun, sleeps all day and has enormous fangs. Is it possible that she's a vampire, like the character in Jimmy's favorite books? When school starts, Jimmy is still concerned about the blotch on his face, and the other kids give him a bit of a hard time, with the exception of Daisy, a new neighbor of Jimmy's who is cute, nice, AND stands up to bully Baxter Bratford. When things get weird with Mrs. Cragg, Abby's abilities are even more apparent, and when things get bad, her skills help save Jimmy and his friends.
Greenwald has done great middle school books like
Charlie Joe Jackson's Guide to Not Reading
, and always puts together a nice ensemble cast with a touch of romance. Jimmy is a well-defined character with very specific interests (television cop shows, vampires), and he assigns these qualities to his dog in an interesting way. Irwin is a good sidekick, alternately being brave when Jimmy is scared, but wary when Jimmy is a bit too head strong. Daisy is delightfully no-nonsense, and I like that she becomes friends with Jimmy at first because she feels sorry for him, but later is glad they are friends because she enjoys being around him. Even Baxter, whose bullying is a bit too stereotypical for my taste, is brought into the group in a way that makes sense.
It's difficult to come up with mysteries for younger students to solve, and the theft ring is portrayed fairly realistically, with a ring leader who is frighteningly violent but ultimately harmless. This adds a bit of spice to a story that otherwise would be reminiscent of
Encyclopedia Brown
, if Encyclopedia were watching too much television! I appreciated that the parents were kept out of the way of interfering with the mystery by being busy at work, and not by being killed off!
Dog stories are plentiful for elementary readers, and this is a nice change from more standard stories. I might be proven wrong in future books in the series, but I am not convinced that Abby is actually a vampire. Of course, is she is, what would happen if she met
Bunnicula
, the vampire bunny? It's a rare series that leaves me guessing about the direction the next book will take, so I'll be watching to see what Abby and Jimmy get up to next!
It's
Marvelous Middle Grade Monday at Ramblings of a Wannabe Scribe
and
What Are You Reading? d
ay
at
Teach Mentor Texts
and
Unleashing Readers.
It's also
Nonfiction Monday
.
Seiple, Samantha.
Lincoln's Spymaster: Allan Pinkerton: America's First Private Eye
September 29th 2015 by Scholastic Press
E ARC from Edelweiss Above the Treeline
After leaving Scotland, Allan Pinkerton managed to make quite a business as well as a name for himself in investigating. Unlike early police forces, the men AND women he hired were held to high standards of behavior as well as methods of investigating, and as such were used by Lincoln for help during the Civil War as well as other government agencies dealing with difficult issues. The book covers many different investigations, from an attempt on Lincoln's life to outlaws in the West, and even covers the companies later issues when Pinkerton himself suffered a stroke and turned operations over to his sons. Complete with quotes as well as pictures and documents, this is a very complete study of an interesting man.
Strengths:
With lots of well researched information, this will be great book for anyone who wants to do a National History Day project on detective agencies or the Secret Service.
Weaknesses
: Given the title, I thought the book would cover a narrower range of information. Instead, this covers Pinkerton from his days as a cooper until his death, and would have been more interesting if the focus were narrower. There was plenty of information on Pinkerton's involvement in the Civil War, for example, without adding chapters about Jesse James and his gangs. That much information could easily make two books.
What I really thought:
Loved this author's
Ghosts in the Fog
and
Byrd and Igloo,
which my students enjoy reading. This seems more like a book to use for research, which surprised me.