Green, Tim.
Kid Owner
September 29th 2015 by HarperCollins
ARC from Young Adult Books Central and
reviewed there
Ryan Zinna has a comfortable life in Texas even though his mother has always refused to talk about his father. He is small, but likes to play football with his friend, the much larger Jackson, who is helpful in sticking up for him when idiots on the team berate him for being small. When his father passes away, he finds out why football and father are two words his mother doesn't like. His father was a wealthy entrepreneur who owned the Dallas Cowboys football team, and Ryan inherits it. He's thrilled, although his mother is not. Even though Mr. Dietrich is his trustee and will help him make decisions, his father thought it was a breath of fresh air to have a team run by a kid. The new media think this is a great story, especially when the will is contested by Ryan's father's second wife, who wants the controlling interest for her own son, Dillon. To make matters more interesting, Dillon plays football on the unbeatable team that is the big rival of Ryan's. Dietrich decides to use the big game in which both teams play as the deciding factor for which boy is most capable of running the team.
Green always has interesting female characters, and Ryan's friend Izzy is no exception. She plays a mean game of fantasy football, doesn't shrink from impressing everyone with her general knowledge of football, plays soccer, and is pretty and nice to boot. Ryan's growing interest in her is realistic and adds a nice touch to this middle grade novel. Jackson is a confusing character, but a nice foil for Ryan. Ryan is conflicted about his sudden fame, but willing to rise to the occasion. There aren't the typical mafia style villains that Green favors in this book, but the coaches aren't the nicest people in the world, which is interesting.
There are lots good football details, and Ryan's strategies for both the Cowboys and his own team are described in enough detail that I was a bit confused. This is always a good sign that readers who actually watch football will be enthralled! The premise of a middle school student owning a team as famous as the Cowboys is an intriguing one, and will appeal to readers who love to play and read about the sport.
For fans of Green's other books, like the
Football Genius
series, or readers who like Fred Bowen, Rich Wallace, John Feinstein, or Mike Lupica, Kid Owner is a slam dunk. Or a touchdown.
That said, reading this made me weirdly anxious. It wasn't as sad as
The Lost Boy
or Lupica's
The Only Game
, but Ryan had a fair number of problems, and I worried about him.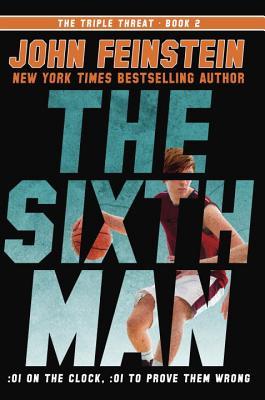 Feinstein, John.
The Sixth Man.
August 4th 2015 by Knopf Books for Young Readers
Afraid this one was a casualty of Cross Country season. Read it, but forgot to write review. This is all I can manage now!
Very good book, middle grade appropriate. Yes, there is a character who is gay, but the situation with him being on the basketball team was very realistic. Some of the guys were very understanding and supportive, some of the guys were jerks. I did think the part where random protesters came to the high school games and threw things at the character were a bit much, but it could happen. My students have liked this-- there's still a lot of basketball despite the social issues.