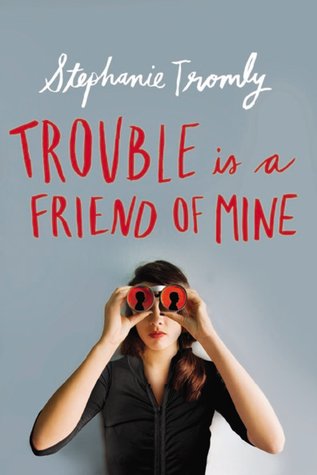 Tromly, Stephanie.
Trouble is a Friend of Mine
August 4th 2015 by Kathy Dawson Books
ARC from Publisher
Zoe thinks that she can survive moving out of Brooklyn after her parents' divorce if she can take her father's offer of help to get into a private school back in the city, which will help her get into Princeton. What isn't helpful is meeting the very strange neighbor, Digby. He catches her playing hooky, and later shows up in the truancy session Zoe has to go to as a result. Since a local girl has recently gone missing, the school takes truancy very seriously. Digby wants to launch his own investigation into Marina's disappearance, and wants Zoe's help. She reluctantly agrees, and ends up stalking a local gynecologist, dealing with off-duty cops, and realizing that the cult-like collection of people who live next door to her might be an even bigger problem than they appear to be. Digby, who has some psychological problems of his own, is trying to solve the mystery of Marina because of his own sister's disappearance years earlier. Are the two connected? And will Zoe survive both the investigation and her friendship with the quirky Digby?
Strengths
: This was well-written and had an amusing voice-- as strange as Digby is, Zoe is able to deal with his and his antics with a sense of humor, which is deftly conveyed through many laugh-out-loud lines. Mysteries are always in demand, and I can see this being popular with fans of Josh Berk's books.
Weaknesses
: The mysteries didn't come to the most satisfactory conclusion for me, but by that point in the book, I was more invested in the characters than in finding out what had happened.
What I really think
: This is more of a young adult book, due to drug use and the subplot with the gynecologist, so I probably won't buy it, but I can see this being a solid choice for high school readers.
Butler, Beverly.
Captive Thunder
June 28th 1969 by Dodd Mead
Personal collection
Nancy Essen HAS to get out of town and away from her washed out, overbearing mother. She knows! She just turned 17, so she'll marry Wayne! Well, they don't even make it out of town, but since her mother thinks "He's dirty, lazy, stupid, a sponger, a cheat, and a coward. He's the town no-good. His own family won't have him around.", maybe it's just as well. An even better plan; even though she hasn't seen her father in fifteen years, she'll go live with him in San Francisco. Wait. He's not there anymore. Off to poor Aunt Barbara's in Milwaukee it is, then. Nancy takes off a week before her junior year exams. Who needs school anyway? Certainly not Wayne. Aunt Barbara is lovely and a little sad, since her husband Matt passed away a year ago. She is a teacher, but spends her summers working with a
Head Start
program in the inner city, working with children who might be ESL but have parents who are struggling. Barbara volunteers Nancy to work as a volunteer, along with Earline, who is the first Negro Nancy has ever met. They deal with a number of problem children, including one boy who is assumed to be "mentally retarded" but is hard of hearing, and his mother, who is 20, has 8 children and didn't catch this. Earline has a boy who gives her trouble, but he is killed in a stolen car, and Wayne comes to Milwaukee looking for Nancy and shows his true colors. Nancy's father shows up briefly and is super creepy, so he's not her ticket out. Eventually, a plan evolves where Nancy can take her exams and stay with her aunt.
cardcow.com
Strengths
: Butler consulted (future author) Betty Ren Wright, who worked at a Head Start program, when writing this book! I'm a big fan of the sending-teens-to-relatives story that was prevalent during this time. Head Start would have been very new. Nancy and her father have dinner at Top of the Marine, which is no longer in business. Very typical of the overwrought attitude of young teens getting married.
Weaknesses
: Father is super creepy and keeps talking about how people think Nancy is his date. Wayne doesn't want to let Earline ride in his car because she is black, but Nancy kicks him out because of this. The attitude towards the parents of the Head Start children seemed somewhat condescending.
What I really think
: My vintage teen fiction collection is primarily pre-1965, so I may take this to school so that students can check it out for the 1960s project. I love Butler's Light a Single Candle, but this one wasn't a favorite.