Winnick, Judd. HiLo: The Boy Who Crashed to Earth
1 September 2015, Random House Boys for Young Readers
ARC from Young Adult Books Central and reviewed there
D.J. comes from a very busy family, and his brothers and sisters all do amazing things. D.J. doesn't. Ever since his best friend Gina moved away, he has felt that he can't do anything well. While out near their old club house one day, D.J. sees a bright flash of light, and finds Hilo lying on the ground, wearing just silver underpants. D.J. tries to find out from where Hilo has come, but Hilo claims his memory is faulty. D.J. takes Hilo home, gets him some clothing (even though wearing just the pants makes Hilo feel "breezy") and feeds him. (Hilo thinks food is "outstanding!".) When school starts the next day, D.J. tells Hilo to stay home, but of course he makes it to school, where he causes a ruckus in the office and gets himself registered. Of course, this is the same day that Gina moves back to town. Unsure of what to think about this, D.J. feels awkward until Gina finds out about Hilo, and then the three are so busy trying to figure out what sort of alien Hilo is and what sort of intergalactic foes he is facing to really reassess their relationship. There are lots of bumps along the way, from finding out that Gina plays a lot of sports and is very interested in science to being chased by huge killer robots from Hilo's planet, but the three manage to work things out and are ready for their next adventure.
Judd Winnick has worked on a variety of more adult comics, such as Batman, and in promotional materials for Hilo, explains how he wanted comics that his young son could read. When an author has a particular audience in mind and researches what that audience wants, it shows.
Hilo
is full of explosions, action, burps and silver underpants, all of which appeal to younger readers, but also has a keen eye for the more serious concerns of this age group. Living up to expectations, making and keeping friends, and finding one's true interests are all themes that tweens and younger teens take very seriously.
Winnick must also have done his research on current trends in middle grade literature, because
Hilo
is nicely multicultural. D.J.'s last name is Lim, and the first food he feeds Hilo is rice. Since this is an illustrated book, those and the pictures are all the clues we need to determine that D.J.'s family is Chinese. Gina is African American. It is the space alien who is blond, which is somehow vastly amusing.
Fans of
Big Nate
, the
Lunch Ladies
, and
Geronimo Stilton
will pick this book up for the full color format and slapstick humor, but D.J.'s earnest vulnerability will make readers take Hilo to heart and wait for a sequel.
My only quibble with this book is that sometimes the characters have pupils, and sometimes their eyes are small, empty white spaces. At first, I thought that only Hilo had these blank eyes, but they all do at different points, and it seemed odd. I'm not an illustrator, so maybe there are difficulties in drawing eyes that I don't understand, but somehow the blank eyes made me look for something different with the characters.
Stine, R.L.
Slappy's Tales of Horror
August 25th 2015 by GRAPHIX
E ARC from Edelweiss Above the Treeline
In four short stories illustrated by different comic book artists (Dave Roman,
Jamie Tolagson,
Gabriel Hernandez and
Ted Naifeh), Stine brings his trademark Goosebumps creepiness to the comic-loving crowd. "
A Shocker on Shock Street"
involves two children trying out a Shock Street theme park, "The Werewolf of Fever Swamp" shows a boy in a new neighborhood trying to distinguish between assumed and real threats,
"The Night of the Living Dummy" has two sisters involved in some sibling rivalry that turns dangerous when their dummies come to life, and in "Ghost Beach", the familiar "Are they ghosts? They are. Wait, no they're not. Yes, they are" formula is used to good effect while two children are staying at a beach house with elderly relatives. In between the stories, we are told by Slappy that we are too weak and scared to read such terrifying tales.
At least one of these stories (
"The Werewolf of Fever Swamp"
) is
repackaged from Creepy Creatures: Goosebumps Graphix
(
September 1st 2006 by GRAPHIX). Since this new version is in hardcover, it is worth the $21.29 (Follett) if full color pictures are important to you. I may pass, since the three previous Graphix Goosebumps books don't circulate all that well for my library and I spent a lot of money on Squish, Geronimo Stilton and Babymouse books last year!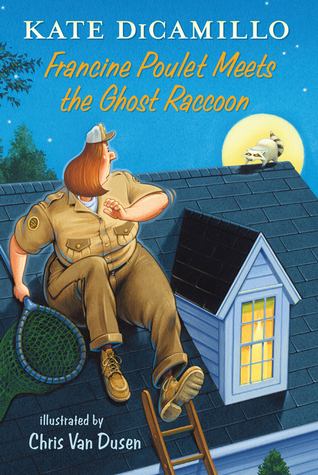 DiCamillo, Kate.
Francie Poulet Meets the Ghost Raccoon (Tales from Deckawoo Drive #2)
August 25th 2015 by Candlewick Press
E ARC from Netgalley.com
Francine is the daughter and granddaughter of animal control officers, and is the most decorated officer in the history of the department. When she gets a call about a ghost raccoon on Mrs. Bissinger's roof that is screaming Mrs/ Bissinger's name, she goes on the call with her trademarked determination and lack of fear. When the call doesn't end with her capturing the raccoon, but with her falling and sustaining injuries so severe that she ends up in the hospital, Francine has an existential crisis and quits her job. She takes another job as a clerk in a bait and tackle store, where she meets Frank and Stella. Frank has heard of Francine's impressive exploits and tells her that he knows where the screaming raccoon is. Can Francine get over her fear to capture the raccoon and return to her previous glory?
Strengths
: This has some appeal to beginning readers who want a well-illustrated, somewhat funny chapter book. It is fast paced and involves raccoons, which seem to be very prevalent in picture book literature but lacking in middle grade, so this is a good bridge.
Weaknesses
: I just took this one too personally, and found it sad that Francine was SO good at her job and so proud of it, but one incident was enough to make her quit!
What I really think:
Too young for middle school, but almost too old at the same time, what with Francine's existential job crisis. Maybe if I were a fan of Mercy Watson or had read the first book in the Deckawoo Drive series,
Leroy Ninker Saddles Up
. DiCamillo is just one of those authors that doesn't appeal to me most of the time.
http://tynida.blogspot.com/2013/04/north-along-floridas-gulf-coast.html
Fun fact: when I was out recently, one of my neighbors had caught a raccoon in his garage that looked very much like this little guy. He had gotten it into a plastic trash can, which he had then laid on its side by the sewer grate at the end of the street, saying he figured that's where the raccoon lived. The raccoon didn't seem like that was home, and kept trying to back away.
I think I would have let the little guy out under a bush and made sure the garage door was closed!