Pichon, Liz.
Tom Gates:
Everything's Amazing (Sort of) (#3)
September 8th 2015 by Candlewick Press
E ARC from Netgalley.com
Tom is eagerly awaiting his birthday, scheming to get presents, and wondering if her really wants to go to the Dino Park where his father works for his party, especially since his father is enjoying driving around in the dinosaur shaped van a little too much... and is that his father dressed as a dinosaur in the adverts around town? Tom means well, but gets into all manner of scrapes-- he shrinks his school sweater and claims it is a trendy "shrink knit" until other kids start showing up in too-small sweaters and the principal has to ban them; he likes playing music with his band, DogZombies, but doesn't really want to perform in public; and there is all sorts of dram surrounding the school disco (dance). The book helpfully has an appendix of British terms.
Strengths:
These books have great characters. Tom, his family, and his friends all are fairly nice (with the exception of Marcus), and are understanding about the various scrapes. My students adore notebook novels, especially when they come in a series, and these are a good choice for middle school. Not as much romance as Wimpy Kid, so good for 4th and 5th graders as well.
Weaknesses
: Very light on plot.
What I really think
: It's organic mac and cheese out of a box. You know it's not any better than the bright orange kind, but it looks like you've made an effort. 400 and some pages long, but with literally two sentences on every page. Methadone for Wimpy Kid addicts.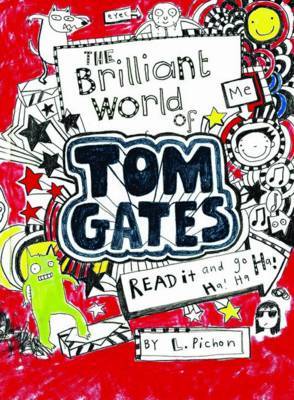 They are up to book number 8 in the UK, but we'll have to wait for them here. Available as Kindle editions if you have a desperate child who has a Kindle!
Something about these just says "Collect them all", doesn't it?
And they remind me of the drawings on the folders my middle school book store sold in the 1970s. We colored them in with markers.
Surovec, Yasmine.
My Pet Human.
August 4th 2015 by Roaring Brook Press
E ARC from Edelweiss ABove the Treeline
This illustrated notebook novel, which is 112 pages long, covers the story of a cat who loves to live on his own. He appreciates the benefits that humans can offer, and is glad to get his share from his friends. Ben lives with lots of young humans and has good toys, Farrah is a cat who lives in a fancy penthouse, and George the rat (who goes around in a plastic ball) lives with a boy who plays video games all day. He finds a girl who has just moved in to his neighborhood, and after getting her to feed him tuna, decides he will stay around. She is a little too attentive, so he introduces her to George's human. When the girl saves him from being taken to the pound, the cat, named Oliver by the girl, decides that having a pet human isn't a bad idea at all.
Strengths
: Even though I don't care for cats, this was engaging. Since I can never have enough notebook novels, will definitely order this. Appealing pictures and good message.
Weaknesses:
How does George get out of the apartment and make it across town? Hmmm.
What I really think
: A definite purchase for elementary schools, and a possible one for middle school if there is a huge demand for notebook novels or books about cats.