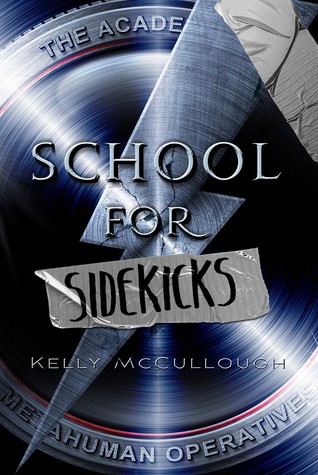 McCullough, Kelly.
School for Sidekicks
August 4th 2015 by Feiwel & Friends
E ARC from Edelweiss Above the Treeline
Evan Quick, a huge fan of the superhero Captain Commanding and a Mask wannabe, tests every morning to see if he might have gotten super powers like his hero. When summer rolls around, Evan's parents give him a season pass to Camp Commanding, which sounds like the best summer ever. He can even charge meals to his mother's account! He wins a cool decoder ring and even a custom made suit, but when he goes back to pick it up, the park has changed. When Spartanicus shows up and fights Captain Commanding, it's Evan who saves the day, even though he ends up gravely injured. Luckily, he ends up under the medical care of the Office of Strategic Intelligence and Research (OSIRIS) and gets sent straight to the Academy for Metahuman Operatives (AMO) against the wishes of his parents, who are worried and want him to live a safe, ordinary life. Evan is thrilled to be a metahuman and looking forward to finding out what his powers are. He loves the classes in how to fight Hoods with ordinary dinnerware, and can't wait to get a handle, uniform, and to be apprenticed to a Mask. Because Captain Commanding wasn't thrilled with being saved by someone who had just gotten powers, no Mask will take on Evan as an intern... except Rand Hammer, the Foxman. Rand hates Commanding, and has had problems with drinking for years. He's newly sober, a brilliant engineer, and takes on Evan mainly to anger Commanding, since he hates children. Evan, realizing he doesn't have a choice, agrees, and gets to check out the Den, the Foxbots, and all of the cool crime fighting equipment. "Meerkat" and Foxman also take down a few Hoods even though they aren't supposed to. Evan finds out bigger secrets about why his metapowers were activiated and why there are Masks and Hoods to begin with. Will he be able to stay safe and continue with his super hero career?
Strengths
: This starts with a lot of video game references AND has superheroes. For some of readers, this is absolutely a slam dunk. I also hope the cover is shiny. This has believable world building, very fun details (I loved the DenMother, a computer that could cook!), and supportive parents. In fact, even though Foxman has had his issues in the past, this is a pretty upbeat book. Hooray for nondepressing adventure books!
Weaknesses
: This lost me near the end with the space aliens and whatnot, and the plethora of superhero names made it hard to keep the auxiliary characters straight, but those are minor quibbles.
What I really think
: I rarely get book crushes. Since I read middle grade lit, the only acceptable ones are the parents, and they're usually dead. But Foxman... he had some potential. Brilliant, making his own recovery, has a sweet superhero den
that cleans itself
... Yeah. I could date Foxman. Maybe not for anything long term, but he was a hoot.