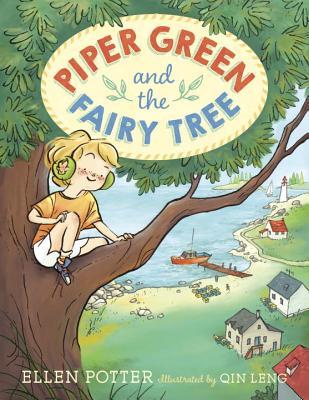 Potter, Ellen.
Piper Green and the Fairy Tree
August 4th 2015 by Knopf Books for Young Readers
ARC from the author/publisher.
Piper is starting second grade, and because she lives on Peek-a-Book island off the coast of Maine, she has to ride in a lobster boat to school with her brother, Leo, who is a year younger. (But bossy!) At first, Piper is excited that there is a new 2nd and 3rd grade teacher, Ms. Arabella, because she looks like a princess in her swishy dress, but when Ms. Arabella tells Piper to take her monkey ear muffs off and Piper won't, Piper becomes so disenchanted that she ditches school the next day and gets in a lot of trouble. Piper is wearing the earmuffs because they belonged to Erik, her older brother whom she misses tremendously. While Piper is hiding, she hears a tree that is "talking", and runs into Mrs. Pennypocket, who helps her discover the reason. The tree turns out to be a "fairy tree", which provides random gifts at opportune moments, but only if the recipient leaves something in return. Piper leaves the earmuffs in exchange for the two kittens that she and Mrs. Pennypocket have rescued, and makes her peace with her new school.
I was a bit concerned about what had happened to Erik, but luckily it was nothing dire-- he was just going to high school on the mainland. It's nice that Piper misses him, and refreshing that she is surrounded by adults who are concerned and supportive. The lobster boat man, Mr. Grindle, even has a wife who sends baskets of baked goods for the children each morning for their ride to Mink Island!
This is a great new series for readers of early chapter books like
Judy Moody, Junie B. Jones,
and
Ivy and Bean.
. The illustrations are appealing, the length is just right, and Piper is well-meaning but often misguided, a trait that seems to be appealing to the younger set!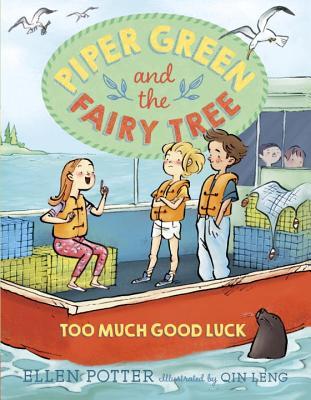 Potter, Ellen.
Piper Green and the Fairy Tree: Too Much Good Luck
August 4th 2015 by Knopf Books for Young Readers
ARC from the author/publisher.
In this second book, Piper is happy about all of the good things going on in her life, like her mother painting her room lime green, finding the perfect strawberry for breakfast, and having her favorite baked good, cinnamon rolls, from Mrs. Grindle. When a fourth lucky thing happens-- her loose tooth falls out-- Piper is worried that something bad will happen because she has too much good luck. It does, in the form of a new student, Camilla, who is moving to Peek-a-Boo island but is allergic to the class rabbit, Nacho. Piper is so mad that she convinces Camilla that Ms. Arabella is a wicked witch, which gets Piper in trouble. Luckily, the Fairy Tree comes to the rescue with a rather odd gift-- one earring. It is that earring, though, that attracts a stray parakeet, Yikes, who becomes the new class pet.
If I recall, elementary school is filled with a lot of friend drama, as well as some stretching of the truth, so Piper's reaction to Camilla and her way of dealing with her is spot on. Ms. Arabella explains to Piper how upset Camilla was when she thought her teacher was a witch, but is understandin about how much Piper misses Nacho. Piper's parents make her apologize profusely, and the girls come to an understanding.
This series gives young readers a window into what it would be like to live on an island and like
Amber Brown, Clementine
and Haywood's
B is for Betsy books
, shows them that it is okay to have trouble with change and offers constructive ways to deal with it.
May 17, 2009
June 2015
One of my great author moments was when I recently got an e mail from Ellen Potter asking if I wanted to review these books, saying
"Of course, you were at the top of my list." She actually remembered sending me a copy of Slob for my daughter's birthday... in 2009!
So here we are again, with the digital copy of Piper Green!