I had a parent ask me why I didn't have the book
The Fault in Our Stars
, and ask who made this type of decision. While things may change after the librarians in my district come up with a policy, so far it has always been the choice of the librarian at each school. My basic rule of thumb is this: since a huge majority of the books checked out in my library are ones that I HAND TO STUDENTS, if I am uncomfortable with something in the book, I don't buy it. And yes, I try to read everything before I buy it.
I have no patience for bad language, see below. While student are tremendously interested in books about drug usage, it seems wise to have only books that show how very bad drug usage is. Anything else seems antithetical to our school and community message. It's okay for there to be vague mentions of sex, but nothing graphic or instructional, and again, I have to be comfortable with the situations surrounding it, so I don't want main characters who think this activity is a good one at a young age. As for violence, I'm okay with violence by or against creatures that don't exist in real life, but not okay with human on human violence that is repeated throughout the book and treated lightly.
Arbitrary? Of course. Everything is. In the case of
The Fault in Ours Stars
, there was language and sex, but the main reason I didn't buy it was that it didn't feel like a middle school book-- not much happened.It was kind of... boring and whiny.
The bottom line is that I have to feel comfortable handing the book to an eleven year old who is not my own personal child. If I am not comfortable with that, it doesn't make sense to me to have the book in my library.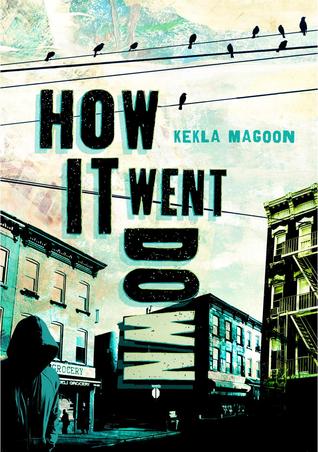 Magoon, Kekla.
How It Went Down.
October 21st 2014 by Henry Holt and Co. (BYR)
Very disappointed in this. I know it is meant to be "gritty" and "realistic", but far too many f- words. I love this author and feel she does important work, but if my students can get suspended for using bad language, I shouldn't be handing them books that include it. I feel very strongly about this and therefore refuse to use my limited school budget, which is provided by the taxpayers, to buy books that make a conscious choice to include this kind of language.
Barnes, Jennifer Lynn.
The Naturals (Click to read Goodreads description)
Published November 5th 2013 by Disney-Hyperion
Since the sequel,
Killer Instinct
, comes out November 4th, I thought I should read the first one. My students love murder mysteries, and I like Barnes' other work, but this had rather disturbing scenes of torturing women before killing them, and talking about how enjoyable the process was for the killer. A little too much for MG, I think, although it was quite well written and had a great twist.
Wagner, Laura Rose.
Hold Tight, Don't Let Go
January 6th 2015 by Amulet Books
E ARC from Netgalley.com
This was a very interesting account of the aftermath of the Haitian earthquake in 2010, from the point of view of a teenage girl who was living with an aunt (who got room and board for being the housekeeper of a wealthy woman) and cousin. When the aunt dies, she goes to live in a camp with an uncle. There were so many good details, but because of the age of the main character, the issue of sex in the context of prostitution came up several times, and specific acts were mentioned. I would love to see a MG appropriate book on this topic, but I'll leave this one for the high school to investigate.
Selzer, Adam.
Play Me Backwards.
August 26th 2014 by Simon & Schuster Books for Young Readers
Public Library Copy
I really wanted this one to be middle grade appropriate because I adore Selzer, but...no.
Selzer is always brilliant, but this is SO not middle grade that I won't even recommend that one of my 8th graders check it out of the public library. Liberal use of f-bombs, which is disturbing enough, but I had to stop reading when Leon started recounting his, um, life experiences.
Funny as all get out, clever, and sure to appeal to 16 year old boys everywhere, but I can't even recommend it without blushing to one of our teachers who is a big fan of this author. Too much information. Drat.