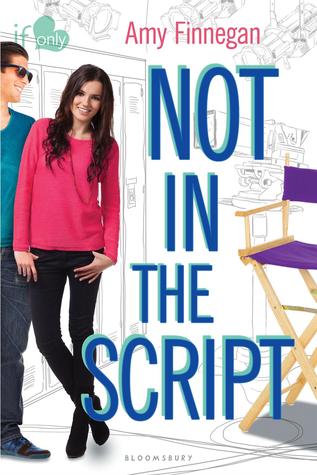 Finnegan, Amy.
Not in the Script (If Only #3)
October 7th 2014 by Bloomsbury USA Childrens
E ARC from Netgalley.com
Emma is a very successful young actress who has just gotten a role on the new show,
Coyote Hills
. This means moving to Tuscon (her family is in Fayetteville), and also working with two young men that she would like to avoid. One is Brett, another long time actor on whom she has had a huge crush, but who turns out to be rather a jerk. The other is Jake, who is switching from a successful modeling career. Emma's best friend Rachel has a huge crush on Jake, and Emma has promised to introduce them. Emma has had a string of bad relationships that ended in spectacularly public fashions, so she has sworn off boys. The problem? Jake is not only extremely good looking, but also sweet, fun to be with, and an upstanding citizen to boot. He takes care of his mother, who's had a stroke, and genuinely likes Emma. If they both liked each other and there were no problems, there would be no story, so complications abound. Emma's ex shows up, Brett plays unattractive games with Emma's affections and reputation, and Emma is worried what Rachel will think of her relationship with Jake. Emma and Jake do manage to put together a charitable foundation together, but will they ever be able to date in public?
Strengths
: This whole series is GREAT for middle school students who want romance books! The characters are older (in this case, late teens, but living away from home), but they don't DO anything inappropriate. There's just the requisite melting when there is a hug or kiss, and a lot of pining. Perfect. After all, what 12 year old doesn't think Hollywood is a possibility? Emma had her moments, but I may have had a slight crush on Jake myself!
Weaknesses
:
This should have been published in August so I could have gotten it in my first book order. Now I'll have to wait until January to order it. *Sigh*
Amy Finnegan sent TWO COPIES to my school. How very sweet of her. I got them processed and on the shelf, and they went out RIGHT AWAY. The girls adore this series, and this book is good for the guys as well, because of the alternating chapters.