Fforde, Jasper.
The Eye of Zoltar.
7 October 2014, Houghton Mifflin Harcourt
Copy from Barbara Fisch of Blue Slip Media
The third book in
The Last Dragonslayer
series finds Jennifer Strange in charge of Kazam Mystical Arts Management, and still very concerned with the health of the last two dragons in existence. When Shandar requests an audience with her, she is a bit alarmed. It turns out that Shandar had a contract to kill all of the dragons, and he will lose a great deal of money if he doesn't kill them. He strikes a deal with Jennifer-- in exchange for letting the dragons live, she must provide Shandar with the Eye of Zoltar, a mystical ruby that may or may not exist. Seeing no other option, Jennifer heads off to the hazardous Cambrian Empire, where rumor has it the gem might be, with her trusty crew. This group includes the spoiled princess Shazza, who has been transported into the body of a lowly serving girl by her mother, who wants Shazza (now Laura) to learn some humility. They hire a young guide who predicts that half the group will die, but the guide also has other people join the group so that they can be the ones who perish! There are all sorts of odd adventures to be had, including retrieving a rubberized dragon and carting him around, looking for air leviathans, and uncovering a plot that may be more interesting to Shandar than the Eye. While a few of the group do perish in odd ways, most survive, but there are yet more adventures in the offing.
Strengths
: Jennifer is a fun character, and her relationship with Laura, as well as with the ill-fated magician Perkins, are interesting. The quest format works, and even the Cambrian Empire has its appeal. I liked this far more than the first book, and am half inclined to buy the series now.
Weaknesses
: While this is a good series for those who like quirky, Monty Python-esque fantasies (think Douglas Adams or Gerald Morris), I just don't have those readers right now. Makes me a little sad, missing a group of readers I had about eight years ago!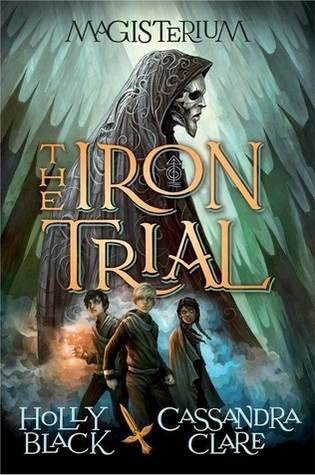 Black, Holly and Clare, Cassandra.
The Iron Trial (Magisterium #1)
September 9th 2014 by Scholastic Press
ARC from Baker and Taylor
Callum Hunt is a rathe obnoxious kid who limps because his leg was shattered as an infant. He lives with his father, who has turned against all magic because it lead to the death of Call's mother, probably (although Call doesn't know it) during a battle against the Enemy, a battle after which Call is found with a note from his mother that says "Kill the child". When the Magisterium (the local school for children with magical capabilities that need to be harnessed) screens children, Call hopes that he will not get accepted to the school, but despite his best efforts, he not only gets in, but gets accepted into a training group by the top teacher, Master Rufus. Along with Tamara and Alex, he is assigned a variety of tasks in the school set deep in the forest, (especially dealing with elementals), eats a lot of bizarre food, and deals with other students who don't think that Call deserves his chance. Even though his father has sent a note that Master Rufus should bind Call's magic, Call makes good progress, even taking in (against school rules), a chaos ridden wolf pup. After another student, Drew, tries to run away, secrets come out about the dangers for which the Magisterium is preparing students, Alex is determined to be very important in this battle, and Call finds out that all of the foreshadowing about his true background has serious ramifications.
Strengths:
It must be said that my two go-to reviewers of fantasy, Amy at my school and Charlotte of
Charlotte's Library
really liked this. It looks to be a five book series, solidly middle grade, and I will definitely purchase, since it is more modern, realistic fantasy as opposed to historical, high fantasy, which has really gone out of favor at my school. Decent enough world building, an understandable amount of characters, a school that most middle grade students would want to attend, and a reasonably defined battle against evil. The cute wolf pup does help a lot.
Weaknesses
: Personally felt "meh" about this, possibly because I am still loving
The Last Apprentice
Series. My main problem was that Call is a brat, and his father hasn't been a good or responsible parent. The characters, while interesting, don't seem quite as developed as I would like, although they might be in future books. I did not think the twist at the end was unexpected at all, and was a bit concerned about how it was dealt with in light of future books. I like characters with an interesting mix of good and bad in them, so maybe I will like watching how the next books play out.
Have to say that Holly Black's
Tithe
is the reason I try to read all of the fiction books before buying them-- years ago, a student I had known since she was tiny recommended the book to me, and I bought it, only to find out that the language was too salty for middle school. So my hackles are raised every time I approach a book by her! Cool that she and Clare live so close to each other and collaborated on the book! I imagine they had great fun writing it.