Still super bummed about Ally Carter's
Gallagher Girls
series being over? Pick up this title and dry your tears while trying to find copies of
A Gallagher Wedding(6.5)
and
Classified Material (4.5)
.
(It involved logging in to the
secret web site.
I love that this sort of thing is WORK for me!)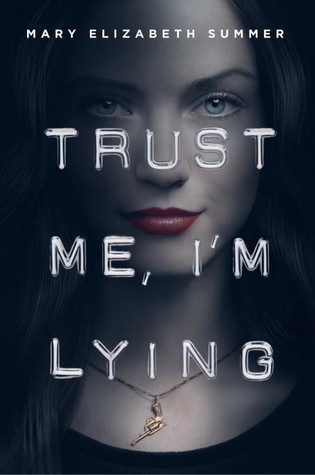 Summer, Mary Elizabeth.
Trust Me, I'm Lying
October 14th 2014 by Delacorte Press
ARC from Baker and Taylor
Julep and her father are grifters of the first order. She's good, but not thrilled with this way of life as a future, especially since her mother left the family years ago when she tired of the traipsing around. For now, Julep is enrolled in the prestigious St. Agatha's in Chicago so that she can break free of her father's life and go to Yale. She runs the occasional scam for pocket money and the occasion complimentary latte, using her best friend Sam's hacking skills and vehicle when necessary, but when she arrives home to her apartment to find it trashed, and later finds a dead rat in her locker, she is very worried. Her father has been gone before when deals go wrong, but this latest development is even more concerning. She's being trailed by a Chevelle, and a nasty Russian girl runs her and Sam off the road and warns her to stay away. Sam (whose family is wealthy), hires a body guard for Julep, but the guard begs Julep not to let on to Sam that she knows about this. School hottie Tyler is there when Julep finds the rat, and turns out to be extremely supportive through all of Julep's travails. Her father has left her hard-to-get-to clues as to his whereabouts, and she needs the help of both boys, as well as several people from school who owe her favors thanks to her scams. Things become dire when Julep discovers that the mob is involved, and they are not willing to let her go free once she knows they are involved. There's double crossing galore, and Julep needs all of her skills, as well as all of her friends, to survive.
Strengths
: Ah, a good spy-type tale with some romance thrown in. No parents, just kids saving the day and bringing criminals to justice. There were so many fun details of this-- I loved the subplot of Murphy wanting to ask Brynn to the formal and hiring Julep to help him, and also the fact that he becomes her friend because of it. Lots of twists and turns, and hopefully, a sequel!
Weaknesses
: A significant death that I completely didn't see coming. Have to admit, though, that it was handled extremely well for a death of a major, sympathetic character in that the character has just done some rather horrible things, and it's not dwelt on overly much. Nicely handled. This is a necessity for high school libraries, but fine for middle school as well.