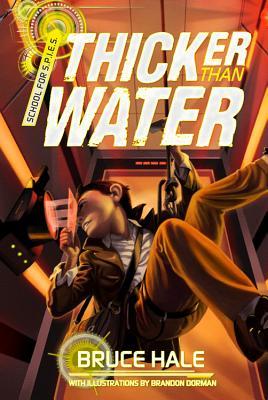 Hale, Bruce.
Thicker Than Water (School For Spies #2)
June 24th 2014 by Disney-Hyperion
E ARC from Netgalley.com
Max has settled in to the Merry Sunshine Orphanage and become a good spy and a supporter of the cause of S.P.I.E.S. Their first mission ends poorly, with rival LOTUS scooping their assignment and getting paid for it. Hantai Annie takes another assignment, getting a mind control device from the offices of Rook Tech for the wealthy Mr. Elbow, but LOTUS again makes trouble. To top it off, Max's father, who abandoned him long ago, is working for LOTUS and wants Max to change sides. LOTUS has also complained to the government about the running of the orphanage, and Mr. Krinkle, the inspector is making their life difficult. In order to break in to Rook Tech, there are a lot of preliminaries, and the cast of the first book, including Cinnabar, on whom Max has a bit of a crush, have to attend a Halloween party, fight off LOTUS agents, and persuade Mr. Krinkle not to shut them down. Even if they succeed, will they be able to get the device to Mr. Elbow and have enough money to go on? Given the cliff hanger ending, I'm guessing that they will be able to go on for at least one more book.
Strengths:
Definitely the most multicultural spy cast that I can think of. Set in England, we have Max, who is half Asian, and a host of other nationalities and ethnic
backgrounds represented. I appreciated that the plot was fairly easy to follow and moved quickly due to all of the problematic assignments leading up to the heist.
Weaknesses:
Ending a bit of a let down, and Hantai Annie's broken English still bothers me a bit.
Higson, Charlie.
The Fallen (The Enemy #5)
June 10th 2014 by Disney-Hyperion
Maxie, Achilleus and others have escaped from the Palace and the influence of David, and have made their way across London to the Natural History Museum where they hope to take refuge, since they have heard from Brooke that it is well-run and protected. When they arrive, however, no one is at the gate, and the entire building is infected with diseased parents. After a horrific battle during which many die, they meet up with Einstein and Samira, who are working in the labs and trying to find a cure for the "sickos". Things are not going well in the Museum, though; the attack seems to have been started by someone on the inside. The reader finds out early on that Paul has been bitten and is in the thrall of an odd creature named Boney-M, and is causing many of the problems. Einstein, however, is bound and determined to take a crew to the Promithios warehouse, where he hopes to find medicine. Once there, they find several adults who have not turned completely into zombies, and the adults warn Einstein about the creatures who have taken over the warehouse. These Twisted Kids may have some information about how the entire plague was set off, and are oddly interconnected to other characters in the book. In the meanwhile, Paul terrorizes the children in the museum, and toward the end of the book, we get brief glimpses into characters from other books such as David, Kyle and Ed.
Strengths
: Lots of fighting and action, lots of slimy gray substances oozing places, and PLENTY of zombie type violence. That's what will attract the average 12-year-old zombie/horror fan to this, but I was intrigued by the London setting (Let's go get jewelry from the Victoria and Albert museum!) and the philosophical component. Higson is weaving a lot of stories together, and I'm looking forward to seeing how the next two books go.
Weaknesses
: Lots of slimy gray substances oozing places, and PLENTY of zombie type violence. This somehow seemed more violent and vividly gross than the other books; I really couldn't read the chapters with Paul in them because they were verging on human-on-human violence, which I can't stomach. Still, this is a hugely popular series, and if the students are willing to slog through 533 pages just to read zombie gore... sigh.
I started reading a couple of chapters of this before I went to bed. It rained that night, and the sump pump in my garden had so much water on top of it that it started making weird shrieking/sucking sounds followed by a disgusting burbling, and I woke several times totally convinced zombies were attacking. My daughter asked me in the morning who was murdering kittens in the back yard.
So, of course, I had to Tweet about it.
The point of this whole thing is that Darren Shan is really, really twisted and that I am NOT going to be plugging in the sump pump at night any more!
@MsYingling @monstroso Maybe that wasn't a dream. Maybe they've gathered around your room and tonight they'll attack...
— Darren Shan (@darrenshan) June 25, 2014