Lubar, David. The
Gloomy Ghost
July 8th 2014 by Starscape (first published February 1998)
Copy received from publicist
Rory is going to be in big trouble for breaking the family television-- or he would, if he hadn't hidden outside in the yard and eaten a poisonous berry. Given that he goes toWashington Irving Elementary School and his friends have been turned into monsters
in previous books
, it's not a surprise that Rory turns into a ghost. At first, being a ghost is kind of cool, especially when he finds a ghost puppy, but when he visits Winston House and talks to other ghosts there, he finds out that he has two hours to alert his family and help them find his body and get help, or he will be a ghost permanently. When he helps a victim of Madame Zonga's bad fortune telling by manifesting himself so that living people can see him, the ghost of Josiah Winston is very interested in having Rory help him as a poltergeist, but when Rory almost has a run in with a Teridakian who is sucking up ghosts, he knows that it is more important to keep living.
Strengths:
These Monsterific Tales are really meant for younger readers (Rory is a kindergartener), but they are also a good choice for reluctant middle school readers who want a book that they can finish quickly. For them, this is pleasantly creepy in a funny way; for younger readers, I would imagine that these would be a little scarier, since they might be afraid that they would turn in to ghosts. For whatever reason, children like to be scared, and I love that Mr. Lubar remembers this from his own childhood and writes his fun tales accordingly.
Weaknesses
: This could have been a little bit scarier. Not often I say that!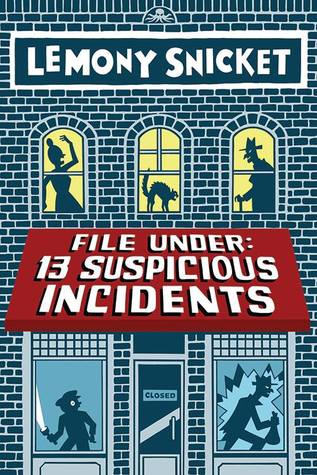 Snicket, Lemony.
File Under: 13 Suspicious Incidents (All The Wrong Questions #2.5)
April 1st 2014 by Little, Brown Books for Young Readers
E ARC from Netgalley.com
The characters from
Stain'd-By-The-Sea appear in a collection of short mysteries that are investigated by Lemony Snicket, ala Encyclopedia Brown. Granted, the mysteries are a bit odder than those in Sobol's Idaville. Stories cover a range of weird things, like pictures that fall off a wall, items that go missing, all in the typical Snicket-esque, non sequitur sort of way. Most of the characters from the All the Wrong Questions series are presented, but the thing that stood out the most to me (since my inability to recall short stories is compounded by my inability to understand Lemony Snicket-- I get sidetracked by thinking "What did VFD stand for? And why did I read all 13 books about the Baudelaires and still not find that out?") was the answers to the mysteries at the back of the book. When I was in early elementary school, my mother and I would read Encyclopedia Brown books together and try to figure out the mysteries before turning to the back-- I didn't do so well trying to figure out these, but I could see them being used to good advantage in a language arts classroom where they were studying mysteries.