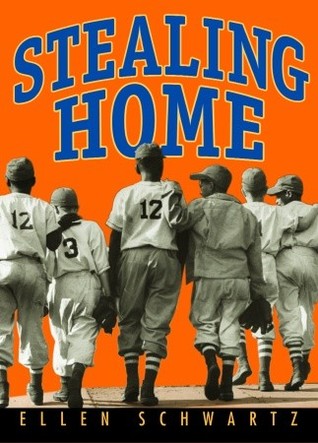 Schwartz, Ellen.
Stealing Home.
May 9th 2006 by Tundra Books
Ten year old Joey is in foster care in the Bronx in 1947 after the drug related death of his mother. His social worker finds out that his father, a Negro, has passed away, but also that his mother's father and sister are still alive and living in Brooklyn. This is a major move for Joey, since he is a Yankees fan and not a Dodgers one, but he is relieved that his girl cousin, Bobbie, loves baseball and isn't a sissy. The family turns out to be Jewish, and instead of being called a cracker, as he was in his old neighborhood, Joey is accosted with the term "nigger". Even the ladies in the store whisper behind his back that he is a disgrace. His grandfather is willing to keep him around as long as he behaves, although his aunt is glad to have a reminder of her sister around. Joey tries to settle in to his new life, and follows the career of Jackie Robinson with interest. Will he ever become a fan of Brooklyn, either the baseball team or as a place to call home?
Strengths: There is not a lot of fiction set in this time period, especially involving biracial children. Jackie Robinson was certainly major news at the time, especially in New York City. This is a pleasant enough story—a good balance of baseball and problems.
Weaknesses: Sadly, this is out of print, and the public library copy I checked out was in paperback. (In surprisingly good condition, which makes me wonder how much it has been read.