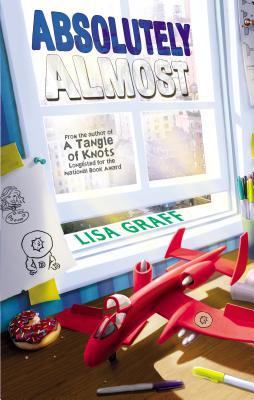 Graff, Lisa.
Absolutely Almost
June 12th 2014 by Philomel
Copy from the Westerville Public Library
Albie's parents are both very demanding and very busy with their work, and his Grandpa Park also has high expectations for him, so when Albie is asked not to return to Mountford Prep, everyone is disappointed. Albie feels like he isn't talented at anything. His best friend and neighbor, Erlan, is very busy over the summer since his family (which has two sets of triplets) is filming a reality show, so he is stuck with his new nanny, Calista. Calista is very different from the other nannies, and wants to do all of the things that Albie considers fun, instead of the things that his mother thinks are fun. She helps to tutor Albie so that he will do better in school, but encourages him to concentrate on his people skills and to believe in his own abilities. Unfortunately, Calista is fired for a lapse in judgement, but hopefully Albie will be able to continue
Strengths
: This reminded me of
Harriet the Spy
, but with an appealing main character (As a child, I thought Harriet was horrible, and I can't say rereading the book changed my mind!). Solid New York City setting, interesting use of reality television, and a good message about knowing one's own strengths. Also, a main character who is half Korean but whose heritage is not the main thrust of the story. Too bad Albie's face isn't on the cover!
Weaknesses
: Perhaps children in NYC have nannies, but here in the midwest Albie would be spending his time at a summer parks and recreation program instead, so it might be a bit hard for my students to connect with the idea of Calista. The parents in this books were really rather horrible, especially in regards to how they treated Calista. Sure, nannies can be detrimental to children and have to be watched, but Calista's firing was shocking and not explained to my liking.
It's
Marvelous Middle Grade Monday at Ramblings of a Wannabe Scribe
and
What Are You Reading? d
ay
at
Teach Mentor Texts
and
Unleashing Readers.
It's also
Nonfiction Monday
at Anastasia Suen's blog.
I'm going to have to come up with a term for books that I read and think "Meh. Okay, don't think I'll buy it, but I know that all the other teachers and librarians will think this is AWESOME." This struck me right away as being that sort of book, and sure enough, it showed up with several other titles I read in this article at
School Library Journal
:
http://blogs.slj.com/afuse8production/2014/04/24/librarian-preview-penguin-books-summer-2014/#_
Here's a hint: If I don't review a book at all, it means I couldn't find anything nice to say about it. This was not the case for this book, but I certainly was not as enthusiastic as the following reviewers:
The Styling Librarian
Bookpage
JerBearShares
Oh, well. As I tell my students, there are lots of different books for different readers, and we don't all have to like the same books!