If you're a middle grade aficionado, you know how difficult it is to get middle grade appropriate LGBTQA books. So many of the LGBTQA books that I come across have excessive drinking or drug use as well as a level of sexuality I would find inappropriate for middle school students no matter what the orientation of the participants was. I didn't buy
Better Nate than Ever
because there is ZERO interest in Broadway plays at my school, but I'm always looking for books that involve skateboarding, even tangentially, so I was glad on a number of levels to find this book.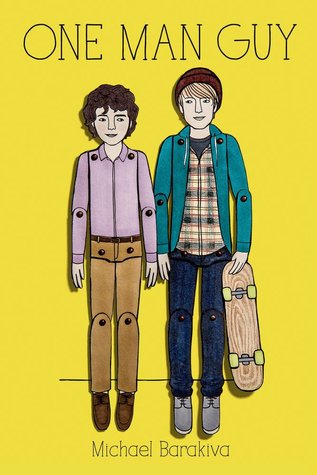 Barakiva, Michael.
One Man Guy
May 27th 2014 by Farrar, Straus and Giroux (BYR
Alek's parents are making him go to summer school because he will have to go into a regular track of coursework without the extra effort, and this is not acceptable to his high achieving Armenian family. He'd much rather spend his summer hanging out with his best friend Becky, even though they did share an awkward kiss. When he meets Ethan in summer school, he is drawn to his devil-may-care attitude. The two hang out together, ditching school and having a day out on the cheap in New York City. Alek takes offense when Ethan uses the term 'faggot' and tells him that he can't be friends with someone who degrades others with that terminology; Ethan replies that he can use the term because he himself is gay. After telling Alek about his first relationship and spending a lot of time together, the two decide they like each other. They continue their trips into the city, which gets Alek in trouble with his parents after they spend a week out of town because he cut class in order to do that. Complicating family matters is also his brother, who finds out that his girlfriend is half Turkish, motivating him to break up with her because so many family members were lost in the Armenian genocide. Eventually, the parents come around not only to their sons' romantic interests, but also to Alek's reduced academic aspirations.
Strengths:
I really liked all of the details of Armenian culture, from the recipes to the historical references. The New York City setting is more interesting to an outsider than many I have read. Alek's relationship with Ethan is middle grade appropriate. I liked how they really were friends before they became romantically involved. And it involves skateboarding! Buying a copy.
Weaknesses
: Showed this to a straight male friend and said "Would you have read this as a middle school student? What's it about? Pretend you're 12." His answer was basically "no". It looked like it was about gay characters, which didn't interest him, and if his friends had seen him reading it, they would have made fun of him. And that would be why this is the sort of book that is often stolen more than it is checked out. Since I have made a big push for #WeNeedDiverseBooks lately, I am hoping that I can recommend this to students on the basis of it being an interesting book about adventures in New York City from the point of view of a boy who is Armenian and also gay. I recommend books about ethnically diverse characters to all of my students. Why not share books about characters who might differ from (or be the same as) them in other ways without specifying which I think might be the case?
It's
Marvelous Middle Grade Monday at Ramblings of a Wannabe Scribe
and
What Are You Reading? d
ay
at
Teach Mentor Texts
and
Unleashing Readers.
It's also
Nonfiction Monday
at Anastasia Suen's blog.