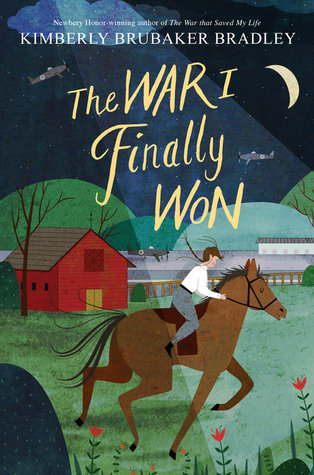 Bradley, Kimberly Brubaker.
The War I Finally Won
October 3rd 2017 by Dial Books
ARC provided by the Publisher
After
The War That Saved My Life
, Ada and Jamie are settled in with Susan, and Ada is set to have surgery on her clubfoot, when news arrives that their mother has died in a factory bombing. Ada is very confused, and worried that this will mean that she and Jamie have to find another home, especially since Susan's house was also destroyed in a bombing. Eventually, her fears are put to rest, her recuperation from surgery is complete, and the new family moves back to their village to put together a new life. This is difficult with the war going on, and even more difficult because things are always changing. People leave, people die, and change is very hard for Ada. Lady Thornton lets Susan stay in the guest house on the property, and when Lord Thornton is off working on the war effort and Maggie is at school, Lady Thornton decides to close up the big house and move in with them! Ada thinks that Lady Thornton is cold and mean, an opinion reinforced when Lady Thornton makes changes to the living arrangements without consulting her. Things are even more difficult when a German Jewis refugee, Ruth, moves in with them all to be tutored. Germans, even ones fleeing the Nazis, are not trusted, and Ruth is frightened for her family back in Germany, so her presence adds extra uneasiness to the household. The details of war time living, like rationing, black outs, and the results of bombing, are clear every day. One bright spot is Jonathan, who allows Ada to spend some carefree moments riding horses with Ruth, even though Lady Thornton doesn't approve. War time is bleak, but there are small comforts and victories to be found. This is a great book to read alongside Shirley Hughes'
Whistling in the Dark,
Giff's
Genevieve's War,
or Sam Angus' tales of the British Homefront.
Strengths:
I LOVED this sort of book as a child. Penelope Farmer's Charlotte Sometimes, tales of British evacuees,and really ANY historical fiction books were always my favorite. This has all the elements that I wanted-- girls much like myself, straightened circumstances, and details about what daily life was like at the time. It makes me want to watch more of the Masterpiece Theater show
My Mother and Other Strangers.
Weaknesses
: It's very difficult to get my students to read historical fiction, especially this year when all of my sixth graders are demanding that everything they read have pictures! I do have one 8th grader who is even enjoying books on the Indian Partition of the 1940s, so I will definitely hand her these two books.
What I really think:
I will probably buy a copy, since the 8th grade does a unit on WWII, and on the bright side, it won't get worn out overly quickly!