It's Marvelous Middle Grade Monday at
Ramblings of a Wannabe Scribe
and #IMWAYR day at
Teach Mentor Texts
and
Unleashing Readers
. It's also
Nonfiction Monday.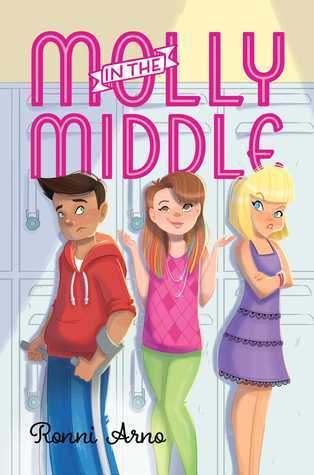 Arno, Ronni.
Molly in the Middle
October 10th 2017 by Aladdin
E ARC from Edelweiss Above the Treeline
Molly's parents are very harried and busy, and one morning, Molly's father gets all the way to her younger sister Coco's school before realizing that she isn't in the car! Feeling very beige, Molly decides to dye her hair multiple colors and sneak an outfit out of her sister's closet. For the first time, people look at her in school, and the very cute Robert asks if she can help him dye his hair. Former friend Nina and new bestie, Christina, invite her to sit with them, seeing that she's gotten Robert's attention, saving her from having to hide in the library at lunch. This is the first year that her best friend, Kellan, hasn't been in school; his mother is home schooling him because she is overly protective of his muscular dystrophy. Molly sees Kellan a lot outside of school, and the two are planning on doing a fundraiser walk for MD, but her new friends make fun of him, and she is enjoying her new popularity too much to defend him strenuously. Robert isn't a great student, but he's nice enough, and he pays attention to Molly. As her parents' fighting gets worse, and her mother goes to stay with a sister, leaving Molly to supervise Coco and watch her older sister Eliza implode, that attention makes her feel better. When Christina plans a spectacular party at her country club on the same day of the MD walk, Molly tells Kellan she won't be able to go with him. Will Molly decide that her new friends are worth the sacrifice of her best friend?
Strengths
: This was brilliant in that it plays to a deep psychological need middle schoolers have-- to be popular for who they are. Molly only changes her hair and clothes (with a little sass for Ms. Littman), and yet her old friend Nina comes back, she gets a cute boy
writing his number on her hand
, and she gets invited to THE most exclusive party of the year! She still gets to hang out with Kellan. The best part? When she ditches Kellan for the party, he actually understands why she did it and forgives her. Of course, it helps that she feels bad. The home environment is also unfortunately realistic; for as many middle grade novels as there are where Really Horrible Things Happen and the parents are prostrate with grief, there are really few books where the parents are just self absorbed and being serviceable but not good parents. The father comes out looking best in this one, and I liked how he listened to Tessa's very reasonable critique of her childhood experience. Kellan is also a stand out character, trying his best despite his overprotective mother, and growing when he doesn't have Tessa to help him out.
Weaknesses
: Mrs. Littman's little talk with Tessa about her choice of friends, while circumspect, was unwise. I vividly remember Mr. Clingerman, my 8th grade science teacher, telling me that my best friend, Lori, was not a good influence on me. I was a good kid, and this just made me mad, and it made me dislike him a lot!
What I really think
: Definitely purchasing, and this will always be checked out!
Apparently, I need to find time for students to eat lunch in the library. Molly is just one of many fictional characters who uses this as an escape. Our grades each have lunch a different period of the day, so when 6th graders are eating lunch, I have 7th and 8th grade classes in for research and language arts. If I get lunch, I have to work around what grade is using the library most that day and eat then. Since I have no aide, there's about 25 minutes of one period a day that students can't stay in the library because it's being run by other students. (Who are on the other side of a wall of glass windows from the cafeteria monitors.) I just don't get how the schedules work for students to not only eat in the library, but to find it quiet!