Medina, Tony, Jennings, John and Robinson, Stacey(Illustrators),
I Am Alfonso Jones
15 October 2017, Tu Books
E ARC from Edelweiss Above the Treeline
Alfonso and his girlfriend Danetta are at a store buying a suit for Alfonso to wear when his father is released from being unfairly imprisoned. They are laughing and joking, and Alfonso is listening to music. When another person in the store thinks that a hanger Alfonso is holding is a gun, the police shoot and kill him. Alfonso was a trumpet player, bike messenger, and good kid. He wakes up in a version of the afterlife that is on a subway train, and he meets others who were murdered by the police. We learn about Alfonso's life and family before the shooting, and are introduced to many other similar incidents that have occurred over the last fifty years. The resultant protests and legal battles are described and discussed in detail in this timely graphic novel.
Strengths:
The message of this book is timely and well-delivered, and the formatting of the book is brilliant. I admire the choice to render all of the illustrations in black and white, the text is not too small, nor is there too much of it, and the inclusion of real cases (especially the listing of them in the back of the book) is helpful.
Weaknesses
: Some readers would prefer the illustrations to be in color.
What I really think
: I will purchase this one, and can see it being used in a lot of different reading circles as well and read by individuals.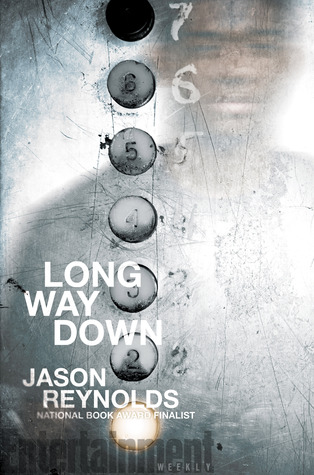 Reynolds, Jason.
Long Way Down
October 17th 2017 by Atheneum/Caitlyn Dlouhy Books
E ARC from Edelweiss Above the Treeline
This novel in verse follows Will after his older brother Shawn is shot to death on the street while running an errand for his mother. The family is devastated, and the next morning Will takes his brother's gun from the bureau drawer and starts off to look for Riggs, whom he is sure is responsible. In the elevator, an old family friend, Buck, gets on. Will is surprised, because Buck (an older friend of Shawn's and the one who gave him a gun) was the victim of a shooting a few years earlier. When Will's friend Dani, who was killed in a shooting on a playground, gets on at the next floor, Will knows that something is wrong. As the elevator continues down, Will is joined by his father, Uncle Mark, a man named Frick, and eventually, his brother Shawn. They all discuss the culture of gun violence, since all were shot to death. Will has been taught that "the rule" is that revenge must be obtained, but will he still feel a need to continue this cycle after his elevator ride?
Strengths
: This book is about the culture of gangs and gun violence, and does not glamorize any of it. The grief is palpable, although another rule is "Don't cry". Reynolds writing is incisive and lyrical as always, and the verse is effective in describing Will's experiences and emotions.
Weaknesses
: The inconsistent use of street vernacular makes the nonstandard usage of "ain't" seem forced.
What I really think
: I will not purchase, but it is an essential addition to a high school collection.