Vlock, Rob.
Sven Carter and the Trashmouth Effect
October 3rd 2017 by Aladdin
E ARC from Edelweiss Above the Treeline
Sven and his friend Will have their quirks-- Will navigates the world while dealing with OCD, and Sven has a compulsion to lick or eat disgusting things, hence his nickname, Trashmouth. After a weird biking incident where Sven thinks his arm has been detached from his body (with gruesome details), Sven visits Dr. Shallix, but comes to no conclusions. He gets more information after a new girl in his science class, Alicia, vaporizes Will! Obviously, this is upsetting, especially when Alicia claims that Will was an alien "Tick" who had come to destroy the Earth. In order to defeat the Ticks, Alicia decides that she should keep Sven around; besides, she sort of likes him. After a series of adventures that include snakes with clown wigs that get set on fire, murderous room service chicken dinners, tin foil underpants, a giant toilet at Niagra Falls and a clone of Sven with a face on its butt, Alicia realizes that Sven is indeed the Tick's secret weapon, and in order to save the world, they need to either figure out how to stop the plan from unfolding... or neutralize Sven.
Strengths
: Although my reading preferences might suggest otherwise, I am not, nor have I ever been, an actual 12-year-old boy, and it takes books like this to reaffirm that. This was a bit too much on the gross, inexplicable side for me personally, but I think that this (as well as the great cover) will make it appeal to my readers. Lots of funny turns of phrase, a decent enough plot, and a great female character in Alicia. Very interested to see what this author produces next. (Skateboarding. Please. Involve aliens if you must, but get those skateboards in there!)
Weaknesses
: This was a bit on the long side. I would have cut some of the beginning about Brandon Marks and the bullying. Didn't really add much to the story. Sorry, Mr. Vlock. Judging from the acknowledgements, YOU really liked having Brandon in the book.
What I really think
: I will definitely purchase this, but I think it is not a bad plan to tell readers that it is a funny science fiction story and NOT a realistic book about BMX biking!
Stroud, Jonathan.
The Empty Grave (Lockwood & Co. #5)
September 12th 2017 by Disney-Hyperion
Public Library Copy
Lockwood, Lucy, George, Holly and the others are back in this final book in a fantastic, spooky series. After the exploits in
The Creeping Shadow
, the crew suspects that Penelope Fittes is really Marissa Fittes, egged on by the Skull, who suggests that the essence of the two are the same. Investigating Marissa's tomb reinforces this idea, and when the Fittes agency starts to shut down all of the other agencies, and George is brutally attacked, Lucy suspects that the final confrontation is at hand. It's likely that Portland Row will be attacked, so much time is spent fortifying it as well as creating a portal to the Other Side in Jessica's bedroom. This comes in handy when the attack inevitably occurs, and allows the group to break into Marissa's base and finally halt the progression of the Problem and save the small agencies.
Strengths
: Despite the lackluster review (I don't want to give things away), I adored this so much that I spent five days reading it! I didn't want to finish it too quickly! The information we receive about the Skull is fascinating, and its relationship with Lucy is the best part of the book. Flo Bones and Kipps also get some good coverage. Lots of salt and silver slinging, intrigue, nasty cold ghost details, and a quickly moving plot. Honestly? My favorite part was when they were putting the Portland Row house back together at the end of the book? Why? Since my most longed for fictional job is to be Lockwood & Co.'s office manager, I was planning to repaint and have the carpets cleaned about the time they started taking the artifacts off the wall. I never thought that Stroud would include that bit, but it made me ridiculously happy.
Weaknesses
: There is not enough Lockwood. Sure, some of his appeal is that he is brooding and enigmatic, and there is a scene where he and Lucy share a moment, but there's no kiss, and just not enough interplay between the two. I was beginning to think that Lucy would somehow bring the Skull back from the dead, because those two spent MUCH more quality time together.
What I really think
:
A TELEVISION SERIES
??? That's something that I might actually watch, even though I don't normally do creepy. Such a great series. Stroud's work holds up nicely, too:
The Amulet of Samarkand
(2003) still circulates with my heavy duty fantasy readers.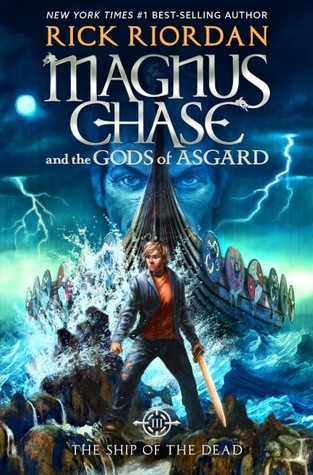 Riordan, Rick.
The Ship of the Dead (Magnus Chase and the Gods of Asgard #3)
October 3rd 2017 by Disney-Hyperion
Copy provided by the publisher
I have apparently been very, very good. A copy of this arrived in the mail yesterday afternoon, and after I wept for about 45 minutes, I jumped right in, knowing that I HAD to finish it last night so that I could give it to a student today. I'm not giving it to him first thing in the morning, because he would do nothing else all day, but after the cross country meet, immediately after his race, I will let him have the book.
I've given up reviewing Riordan. There's a mission with lots of stops with the different gods, and a big set to, and lots of good details about Norse mythology. I even had a dream about Sam fighting someone. The details about Ramadan were interesting-- clearly, Riordan has lots of people proof read his books so he gets things right. The whole point to ME of a Riordan book are the snerks. At least once every three pages, I would laugh out loud, and after yesterday, I really, really needed that.
Next Trials of Apollo out in May, and then what? Do think there is going to be a final volume where everybody meets up and finally saves the world from everything. Then, sadly, Percy and Annabeth will probably get married, and the series will be over. After that, though, I bet that Riordan will go on to do other things, unlike some famous series writers. And the books he writes will still be really good!