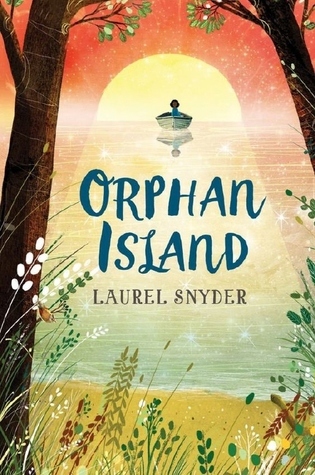 Snyder, Laurel.
Orphan Island.
May 30th 2017 by Walden Pond Press
ARC provided by publisher at ALA
Jinny lives on an island with either other orphans, which, according to a saying, is the number that must be preserved to keep "the sky from falling". To this end, every year one child arrives in a boat, and one leaves. This year, Jinny's best friend is the oldest child and must leave, and Ess arrives. As the new oldest child, it falls to Jinny to take care of Ess and instruct her in the ways of the island. She teaches her to read and swim, and realizes that this is a difficult job. When the boat arrives with a new child, however, Jinny decides to stay, imperiling everything that she holds dear.
Strengths:
The world building is very detailed, and it is an intriguing story. What is going on? What are the kids there? Who is Abigail?Why does the world fall apart? What will happen to Jinny and the rest? Children do like to read books where the children are in charge of everything, so this might appeal to fans of The Boxcar Children and survival stories where the children are living alone in the wilderness.
Weaknesses:
This was a cross between
The Different Girl
and
Hokey Pokey
. I'm disappointed that there were so many unanswered questions. I kept hoping that all of the build up would lead somewhere, but it didn't. Also wasn't fond of the
Blue Lagoon
type scene when Jinny hits puberty.
What I really think:
I am glad that Ms. Snyder wrote this for herself, and that other people like it. I found it confusing and don't think that my students would appreciate it. As much as I enjoyed
Any Which Wall (2009)
and
Bigger Than a Bread Box
(2012), they don't see wide circulation. Will pass on purchase.
Ms. Snyder tells us a little more about what motivated her to write this story over at
The Nerdy Book Club
. I get that she was trying to encapsulate the difficulties of middle school, but it still didn't work for me. Even the 12 year old me, which wants something more like
Insignificant Events in the Life of a Cactus
or
Karma Khullar's Mustache
-- books where the main characters' lives are in fact worse than mine, and yet they still seem to get through, giving me some hope!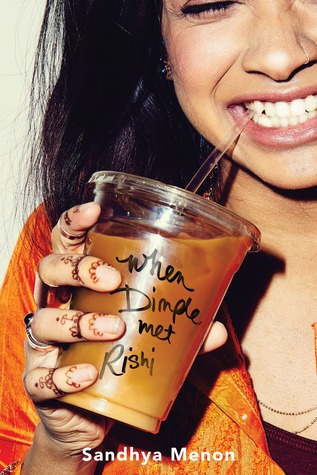 Menon, Sandhya.
When Dimple Met Rishi
May 30th 2017 by Simon Pulse
E ARC from Edelweiss Above the Treeline
Dimple just wants to be able to go off to college at Stanford and learn computer programming, and get away from her overbearing mother who just wants her to land the Ideal Indian Husband. And wear eye liner. She also really wants to go to Insomnia Con, a weeklong program where she can work on an app and maybe win a prize and meet the programmer she admires. Her parents, surprisingly, are willing to fund this venture, mainly because they think it's another place she might be able to meet someone. When she arrives, it's not long before she runs into Rishi, who tells her he is her future husband. She throws a drink at him. After this rocky start (his parents told him about their attempts to arrange a marriage for the two; hers have not!), the two seem to get along surprisingly well. They are paired in the app competition, realize they have met each other before, and find that they are drawn to each other. There are problems, of course, including the fact that Rishi is going to go to MIT, but they manage to work through these issues and realize that, sometimes, parents have the right idea.
Strengths
: Dimple is a great role model-- she wants to become educated and work in a computer field, not just score a husband. Her interactions with her parents are realistic. Rishi is also fun, and the fact that they are both nice people but have completely different relationships with their parents is very interesting. The romance is super sweet, and even though it is definitely more of a college romance, there's nothing instructional in their actions. I would have loved this in high school or college.
Weaknesses
: This falls firmly in the New Adult classification of literature, and I think it would not quite work for middle school students. Drat. I would buy this for high schools, however, because it is circumspectly done.
What I really think
: I loved this, but I don't think I'll buy it.