One event that I always enjoyed was the
MotherReader 48 Hour Book Challenge
! Pam gave it up a few years ago, but was gracious enough to allow us to host various incarnations of it.
This year, it will be
Friday, June 2 until Sunday, June 4.
If you want to play (and clear out that TBR pile!), sign up here at the starting line, read 48 consecutive hours sometime during those three days. If you need to go to a grad party, do household chores, or attend to matters of personal hygiene, you can definitely do that, but you don't get to count the hours! No prizes this year, just bragging rights if you choose to forego sleep and be a crazy reading machine. You can spend time tweeting and instagram-ing and commenting on other blogs as well.
Fast and loose, that's how we're playing it this year. Because we are just that kind of wild, wild reading people!
Krishnaswami, Uma.
Step Up to the Plate, Maria Singh
May 1st 2017 by Tu Books
E ARC from Edelweiss Above the Treeline
Things are rapidly changing during World War II for Maria. The farm her father rents and runs is undergoing some changes, her close knit Hispanic/Indian community is experiencing losses, and she is finally granted permission to play baseball... while wearing shorts! This isn't easy for her, but with the help of her teacher and coach, Maria learns the sport and overcomes the objections of her family and community to girls playing. There are grade appropriate struggles with friends and a younger brother that show that even during different time periods, some essential middle grade concerns stay the same.
This was a great example of what makes great historical fiction-- vivid descriptions of details of daily life during a different time, an unusual twist to the history, and sports. If all historical fiction included sports, it would be helpful! I had never heard of the Mexican-Hindu community in California, and the brief glimpse into Indian history was fascinating, since the book put it into context against US history that younger readers might know a bit better. I am always glad to see books that show the difficulties that girls had playing sports before Title IX as well.
Maria is a great character, and her reactions to situations are flawed but charming. She is supposed to watch her brother, but this interferes with practice. The solution? Clearly, bribe her brother! She lies to her mother about things, but feels guilty. She appreciates her parents' culture, but also doesn't feel it's completely her own.
There were two details about this time period that I found particularly interesting-- the Beckers, both Elizabeth and her father, were shown as pure meanness at the beginning of the book, but Maria does start to understand their motivations more. There are few treatments of German-Americans at this time, so it's a nice touch to include this. The other thing that was interesting was the fact that Maria's father couldn't own land, but his children, being born in the US, could.
Baseball might be the most "American" sport, but perhaps that is because so many different ethnic groups embrace it.
Step Up to the Plate, Maria Singh
is a great addition to a list of multicultural basenall books that include Lorenzi's
A Long Way Home
(Pakistani), Volponi's
Game Seven
(Cuban), Lynch's.
Gold Dust
(Caribbean), Shang's
The Way Home Looks Now
(Chinese), Ritter's
Fewnay Fever
(Italian), Scaletta's upcoming
Rooting for Rafael Rosales
(Dominican Republic), Tooke's
King of the Mound Mound: My Summer with Satchel Paige
(African American) and any number of books set during WWII that feature Japanese-Americans and baseball!
Alpine, Rachel.
You Throw Like a Girl
February 14th 2017 by Aladdin
Purchased copy
When Gabby's father is deployed, her mother decides to spend the summer back in her Ohio hometown in order to get help with Gabby's baby sister Ava. Gabby's mother was a Corn Festival pageant winner, and her father an avid baseball player, so they are well known in the small town. Gabby is more of a ball player than a beauty queen, but she gets roped into registering for the pageant after finding out there aren't enough girls to play softball. Since her big connection to her dad is sports, she decides to disguise herself as a boy and sign up for the boys' team. This has its problems, and when Oliver catches her nail polish a couple of times, he knows what she's doing but keeps it a secret. Her new friend and pageant buddy, Erin, doesn't know about the baseball. When mean girl Jenna finds out, she tries to get Gabby to drop out of the pageant. Can Gabby somehow manage to do both things?
Strengths
: Gabby is an absolutely delightful character, and her grandmother is fantastic! She makes Gabby a pageant dress that she can wear with tennis shoes. I love how Gabby does want to make her mother happy even if it means stepping out of her comfort zone. I also thought the way the coach, Oliver, and the baseball team handled Gabby's deception (there's nothing actually in the rules about girls playing; we just all wish Gabby hadn't needed to lie!). Definitely taking the phrase "like a girl" and empowering it! The boys on my cross country team knew this year that if they ran "like girls" they would have done a WHOLE lot better! Adored this one!
Weaknesses
: While the deception wasn't necessary, Gabby thought it was, so it was handled realistically, even though I wish Gabby hadn't felt she had to do it. Also, it would have been more clever if pageant diva Jenna hadn't been a stereotypical mean girl but had instead turned out to be more of an ally to Gabby, or a secret ball player.
What I really think
: My local library didn't have this one, which is a shame. There are so few books about sports for girls, and this one was so good and had an Ohio interest. An absolute necessity for elementary and middle school libraries.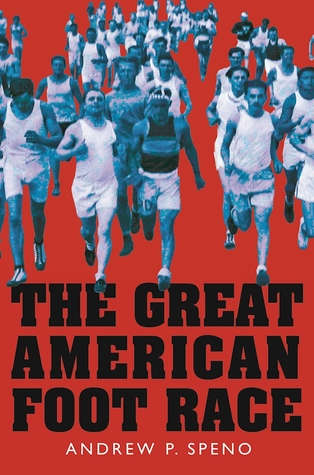 Speno, Andrew P.
The Great American Foot Race:Ballyhoo for the Bunion Derby!
April 4th 2017 by Calkins Creek
Public Library Copy
Who knew? The Boston Marathon dates to 1897, but distance running was taken to even great lengths in 1928 by a professional huckster named C.C. Pyle. He orchestrated a cross country race to promote the new Route 66 that went literally across the country, from Los Angeles to New York City. An astonishing 199 men registered (women weren't allowed), but an even more amazing 55 finished. Their travails over the next 84 days are brilliantly described by Speno in this book on a long forgotten race. I loved how he not only elucidated the general history of the era, but also talked at length about the backgrounds and motivations of the runners.
The research on this is impeccable and impressive. While there are still a lot of historical resources from the 1920s, they couldn't have been easy to find. It's also hard to find good narrative nonfiction of interest to middle school readers, and this book is just the right length and involves one of middle schoolers favorite things... sports!
The Great American Foot Race
is an essential addition to all middle school and high school libraries. I know that this will be the first choice of all of my cross country runners when they have to choose a nonfiction book for a project! Very excited to have this in my collection. Definitely take a look.
Also, I think the author is from a community very close to where I taught in Cincinnati!
Here is an interesting Youtube video about the winner, Andy Payne, by David Antoine.
It's
Marvelous Middle Grade Monday at Ramblings of a Wannabe Scribe
and
What Are You Reading? d
ay
at
Teach Mentor Texts
and
Unleashing Readers.
It's also
Nonfiction Monday
.